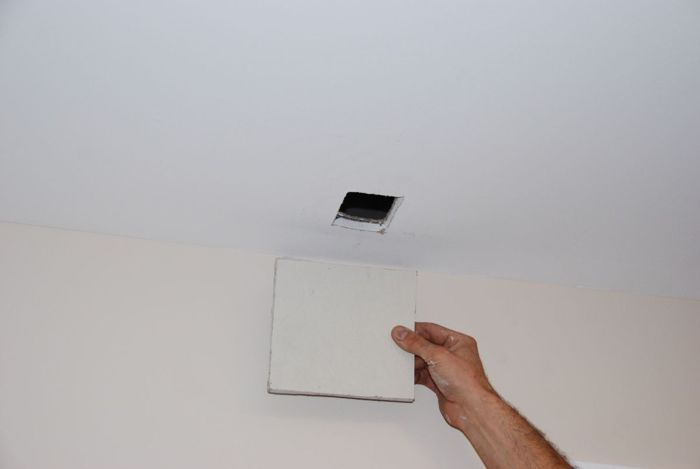 As a renovator, I often patch small holes in drywall and learned of this method from a great taper I work with. For round holes, (moving an octagon box) take the pilot bit out of your 4 inch hole saw and stand on the board, guiding the saw with the inside edges of your boots. Be sure not to go all the way through! Score the paper the same way, snap and peel, and yer off to the races.
Cut a piece of drywall a few inches bigger than the hole in each dimension
Score the back side of the drywall to the actual size of the hole. Snap and peel away the waste pieces, being careful to make sure there is no bits of gypsum left clinging to the paper. You should be left with a piece the size of the hole with at least an inch of extra paper all the way around.
Mud around the hole and load the patch with mud around the edges. Be generous.
Put the patch in the hole and smooth out the paper the same way you would tape, except work from the middle towards the outside. Pulling your knife across the patch will wrinkle the paper. Let dry, two more coats, and you're done. Works great for anything 12x12 and under, no backing nessecary. Especially good for thicker or double drywall, even lath & plaster!