Plumbing Disasters: How Not To DIY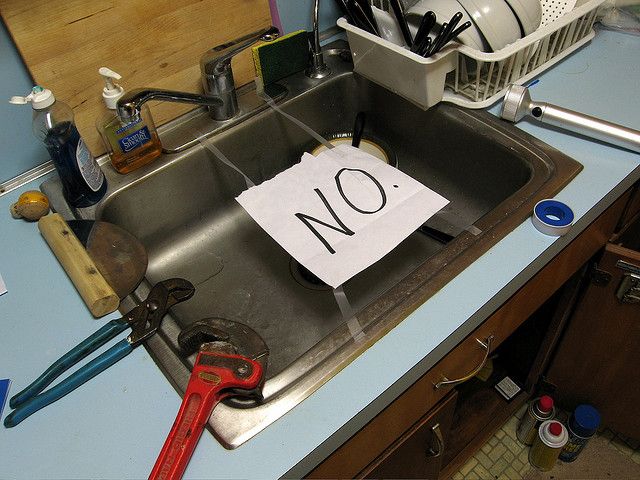 Plumbing repairs are like an endless field in which almost every man wants to try and harness the horse to show everyone that he can do it. Of course, the horse here is the home water supply system. Men simply like showing off when it comes to home repairs, even when they don't know for sure if the outcome will be in their favor. While it is nice to know how to fix anything, here is a list of ways which are not the right ones if you want to leave a good (repairing) impression.
Never See a Pipe in a Wall
People who want to dig their wall to repair a burst pipe, but have never actually seen a pipe in a wall will just waste the precious time (which is every single second if a pipe bursts) before they call for help. To avoid this situation, you have to apply life-long learning, i.e. whenever you see that someone is repairing a pipe, come closer and have a look at what it looks like. You could even watch videos on the Internet and see how skilful people do it. That way you will know why you are digging your wet wall when the emergency strikes.
Leaving it Pipeless
It often happens that a lavatory or a sink pipe bursts. If such a thing occurs, you should shut off the water supply by closing the valve, go to the nearest store, get a pipe and install it, so that the whole thing works again. Leaving a kitchen sink without a pipe or placing a bucket below it is just bad and, what is more, it will produce terrible odors in your beloved home.
Not Measuring the Pipe Length
One of the biggest mistakes you can make when trying to solve your plumbing issues on your own is not measuring things properly. If you forget to measure the width of the sink rim and the length of the faucet pipe, it might happen that the head of the pipe comes directly above the rim and not above the sink, where it should normally be. Tape measures are not expensive at all (up to $10 apiece) and every wannabe home repairer needs to have one.
Dealing with Dangerous Situations on Your Own
Some water-related problems, like dripping faucets, might be uncomfortable, but they do not pose a high risk, so everybody can try to repair them. However, if you spot a big nuisance, like a smoking water heater, every fun and game should stop at once. Whenever electricity and water are in contact, it is better to call for professional help, like Hazlet plumbing business. Those people know the procedure and they will solve the problem without putting their lives at risk. Solving it on your own might be the last thing to show off with in your life.
Excluding the Common Sense
Trying too hard to do something you don't actually know how to do often occupies the brain so much that you forget think in a simple way. Plumbing issues seem complex because few ordinary people deal with them. Regular guys watch Super Bowl or go shopping on Sunday. Fixing a toilet is not we do on a daily basis. That is why the biggest mistake of everyone taking the self-made home repair road is excluding the common sense, out of sheer fear. So, try to rely on your mind and many things will come naturally.
Different professions are here to make people safer and less stressed about different problems. When it comes to plumbing disasters, leave them to professionals. You will have more time to do what you really like and know and they will also earn their wages.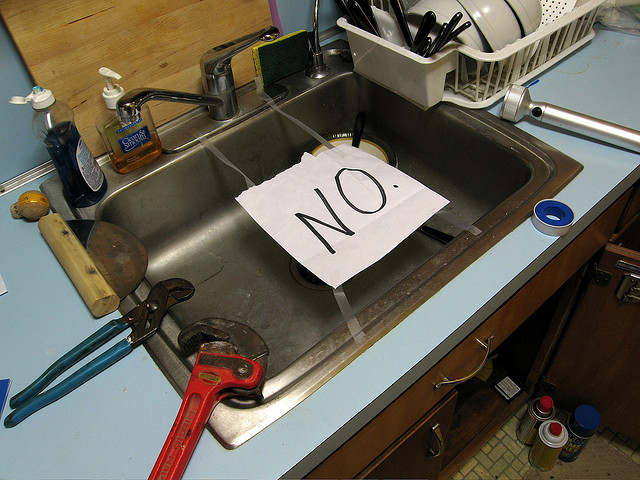 Photo credit: Flickr