Sponsored Post
Tools & Materials
Save Time and Avoid Callbacks with a Solid Subfloor Assembly
Pair the right tools with tested products for a quality finish.
Sponsored by Advantech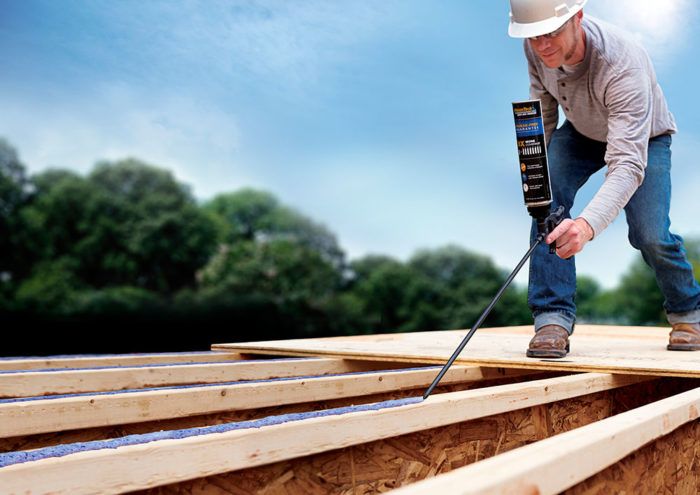 When it comes to high-quality floor systems, builders know that the "glue it and screw it" method works best to achieve a sturdy subfloor assembly. However, traditional caulk adhesives can become a nuisance to apply, especially in particularly hot or cold temperatures. Luckily, new time-saving spray foam adhesives like AdvanTech™ subfloor adhesive — used in Fine Homebuilding magazine's FHB House — can help builders save time and avoid hassle on the jobsite while providing a high-quality bond that will last.
In fact, a recent study by Home Innovation Research Labs revealed that when this spray foam polyurethane adhesive is applied using the new long-reach 28″ applicator, the application process is 40 percent faster than using conventional methods for polyurethane-based cartridge adhesives.
For the study, Home Innovation Research Labs timed simulated subfloor adhesive applications on 2-by-10 joists at 16″ on center (OC) with adhesives at room temperature and at 40 degrees Fahrenheit. Timed tests were recorded for AdvanTech subfloor adhesive with the standard 12″ spray foam gun applicator and the new long-reach 28″ gun applicator. For comparison, timed tests were also recorded for a popular, traditional cartridge adhesive. Tests were conducted with third-party installation crews who are familiar with commonly used subfloor adhesive application methods and tools.
When used with AdvanTech® subflooring, the panel-to-joist connection is even backed by a Squeak-Free Guarantee™ by Huber Engineered Woods, makers of AdvanTech® products.
Not only will the combo give you a rock-solid base for finished floors, but AdvanTech® panels are also known for their ability to stand up to harsh weather exposure. That's why they come with a 500-Day No Sanding Guarantee and a Lifetime Limited Warranty.
With 20 years of tried and true jobsite performance, there's no substitute for high-performing subflooring like AdvanTech subflooring.
First-time user rebates are now available at TryAdvanTech.com.