Sponsored Post
High-Performance HVAC for Whole-Home System Design
Sponsored by Mitsubishi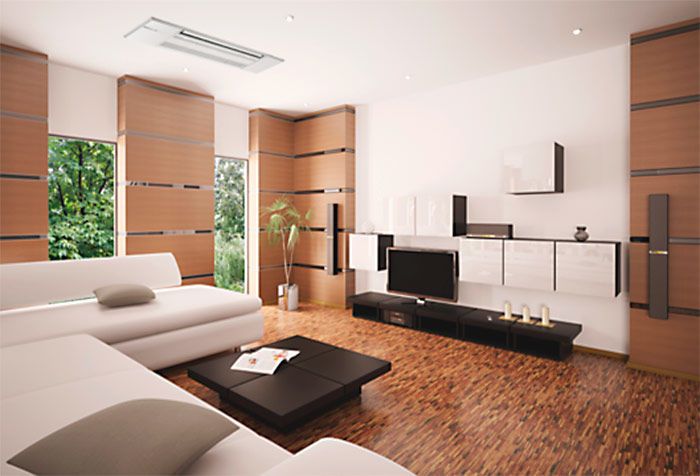 The trend of whole-home system design is gaining ground in high-performance home building. This approach considers the home as a single system with interdependent parts, including framing, walls, insulation, windows, doors, lighting, wiring, controls, power sources and HVAC.
Builders evaluate how building components perform in relation to each other and variables such as the local climate and expected occupant behavior. This approach enables builders to produce homes that are defined by comfort, health, efficiency and durability. Also, homes built according to whole-home system design are more likely to qualify for green building certifications.
Ready for the Shoulder Season
Builders face the challenge of matching high-performance building envelopes with sophisticated HVAC systems that can handle cooling and heating loads significantly lower than those of code-level homes. The project team determines the tonnage or system size based on guidelines set by the Air Conditioning Contractors of America (ACCA) and design temperatures from The American Society of Heating, Refrigerating and Air-Conditioning Engineers (ASHRAE). HVAC systems must be of sufficient size to provide conditioning on design temperature days, which are the coolest and hottest days of the year.
Even when the correct tonnage is specified, traditional systems, boasting large central air handlers that deliver large volumes of conditioned air through long duct runs, are effectively oversized for high-performance homes. The compressors of traditional, forced-air systems run at the full speed and power required on design temperature days and are unable to adjust to meet the actual loads of a home and the individual spaces within it.
The solution? Apply split-ductless and ducted systems equipped with variable-speed compressors. These systems consist of outdoor units connected via refrigerant lines to one or more indoor units. Rather than always running at a speed appropriate for design temperature days, the variable-speed compressor in the outdoor unit runs at the precise speed needed to transfer the refrigerant needed to condition a space.
With variable capacity, split-ductless and ducted systems use only the precise amount of energy needed to keep each conditioned space at its set point. This makes split-ductless and variable-capacity ducted systems ideal for the "shoulder season" — the majority of the year outside of design temperature days — and perfect for efficiently addressing the low loads and expectations for personalized comfort in high-performance homes.
Create Comfort Zones
Split-ductless and variable-capacity ducted systems enable builders to better customize HVAC design to account for the homeowner's lifestyle preferences. Builders can create small comfort zones served by split-ductless units — wall-mounted, floor-mounted or ceiling-recessed — and install horizontal-ducted units or air handlers to serve larger zones or floors. Homeowners have the ability to set preferences and individually control each zone, which means more consistent comfort.
Improve Indoor Air Quality
Split-ductless systems do not require ductwork and variable-capacity ducted systems are applied with compact duct designs. Both types of systems eliminate need for long duct runs that compromise energy-efficiency through leakage and impact occupant health by accumulating particulates. Plus, with compact ductwork, it is simpler for builders to ensure ducts are kept within the thermal envelope.
These high-performance HVAC systems also address indoor air quality (IAQ) concerns. Split-ductless indoor units are equipped with air filtration capabilities while variable-capacity ducted units can be integrated with an energy recovery ventilator (ERV) or heat recovery ventilator (HRV) to provide conditioned fresh air to the home. Using energy from exhaust air to condition incoming air is another way a modern HVAC system can contribute to the energy efficiency of a home.
Whole-home system design requires consideration of interdependent components. Each play a role in determining the level of performance a home can deliver. High-performance builders are encouraged to work closely with their HVAC contractor to ensure the most effective measures are being taken towards building efficiently.
For more information please visit mitsubishicomfort.com.