Sponsored Post
Tools & Materials
Drywall Details for a Modern Finish
If you're not using traditional wood trim, these products from Trim-Tex result in a modern look that requires less drywall material.
Sponsored by Trim-Tex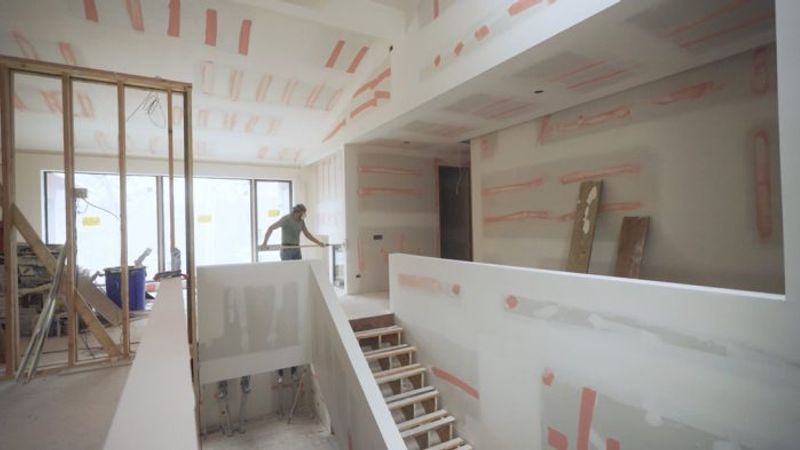 At Fine Homebuilding House Kansas we are building a modern house for our client, and to achieve that we're relying on the drywall finish to highlight the architecture, with minimal trim. The midcentury modern style doesn't include a lot of transition moldings, and focuses on clean lines. We're using Trim-Tex products to produce the flawless finish that our homeowner and architect are looking for.
Buttboard
One of the things that slows us down when finishing drywall is dealing with butt joints, where there isn't a factory-tapered edge. Usually we have to break out wide floats and extra layers of drywall compound to hide the butt joints in the finished surface. On this project, though, we used Trim-Tex's Buttboard Drywall Backer at the butt joints, and it made drywall finishing easier.
The Buttboard is an OSB panel that has a slightly concave profile. You install it behind the butt ends of drywall, in a stud cavity. It reinforces the drywall joint, and lets you run drywall longer, into the stud cavity, instead of cutting it short to land on a stud. When you screw the first edge of one sheet of drywall to the Buttboard, and then screw the next edge to it, the Buttboard pulls both edges into a concave profile that closely mimics a factory-tapered joint, which is much easier to finish. This means we end up wasting less drywall material and using less joint compound for a flatter finish that's faster to achieve because we're not waiting on dry time for extra coats of compound.
Windows
The Low Profile Corner Bead and Tear Away® L Bead help us achieve clean, sharp lines at the window with drywall rather than traditional wood details. The Tear Away Bead has a lip that protects the window from the knife as you're applying the mud. Once the mud is dry and you tear this product away, you're left with a nice clean line between the drywall and the window trim.
Another reason we like the Trim-Tex products is that they're primarily made out of recycled content. And because they're made out of vinyl, they won't rust.