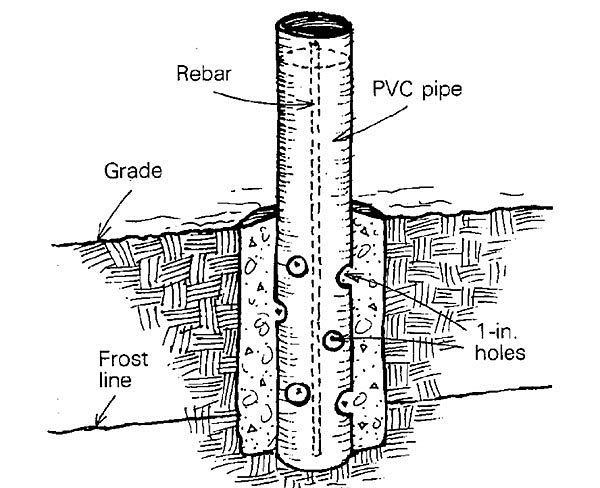 The drawing shows my pier design for supporting decks and small buildings. The key to the system is the section of PVC drainpipe, which acts as both form and finish surface. I like the piers produced with this method because they are strong, cheap, easy to install, rustproof, rotproof, and good-looking.
I begin a pier by digging a 6-in. to 8-in. dia. hole with a post-hole auger to the required depth below the frost line. Next I use an electric drill with a wood-boring bit to punch several holes in a length of 4-in. dia. PVC pipe. The holes allow the concrete inside and outside the pipe to combine for strength. For heavy or high structures I use 6-in. pipe.
Then I set the PVC pipe in the hole, leaving it a few inches longer than the final cut-off height. I pour concrete into the hole to grade level, and into the pipe to the desired height — a foot or so above grade. Then I set 1/2-in. rebar into the center of the pipe. The rebar can be left long to act as a pin, or be pushed below the level of the concrete. A J-bolt, angle iron or other anchoring device can be added as well. While the concrete is still wet, I plumb the pipe and let the pier set overnight.
I made a cut-off marking jig from a 4-in. plastic coupling by grinding off the interior ridge so that the complete coupling slides down over the pipe. I mark the pipe for finished height with a scribe held against the jig, and cut it off with a reciprocating saw. Finally, I fill the remaining section of pipe with concrete and trowel it flush with the top of the pipe.
Robert A. Ritchie, Westerly, RI