How-To
Roof Framing Revisited
A graphic way to lay out rafters without using tables.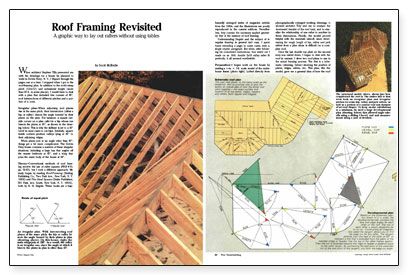 Synopsis: Roof-framing wizard Scott McBride tackles a nightmarishly complicated roof plan for a large house in New York, explaining how a variety of roof pitches and shapes can be brought together in a unified whole. Breaking the roof into its component parts is a help.
When architect Stephen Tilly presented me with the drawings for a house he planned to build in Dobbs Ferry, N. Y., I flipped through the pages one at a time. I stopped when I got to the roof-framing plan. In addition to the roof's steep pitch (12-in-12) and substantial height (more than 40 ft. in some places), I would have to deal with a plan that included few corners of 90°, roof intersections of different pitches and a portion of a cone.
Irregular plan
When adjoining roof planes rise at the same pitch, their intersection (either a hip or valley) bisects the angle formed by their plates on the plan. For instance, a square outside corner on a plan calls for a hip whose run bisects the plates at 45°, as shown in the drawing below. This is why the skillsaw is set to a 45° bevel in most cases to cut hips. Similarly, square inside corners produce valleys lying at 45° to their adjoining ridges.
When plates join at an angle other than 90°, things get a bit more complicated. The Dobbs Ferry house contains a number of these irregular situations, including a large bay that angles off the master bedroom at 45°, and a wing that joins the main body of the house at 60°.
Theory
Conventional methods of roof framing involve the use of rafter squares, but I took a different approach. My study began by reading Roof Framing and The Steel Square, both by H. H. Siegele. These books are a haphazardly arranged series of magazine articles from the 1940s, and the illustrations are poorly reproduced in the current editions. Nevertheless, they contain the necessary applied geometry that is the essence of roof framing.
Understanding Siegele and the subject of irregular framing in general isn't easy. I spent hours rereading a page; in some cases, even a single cryptic paragraph. But when, after following his convoluted instructions, that weird cut I made on an 18-ft. double 2×10 valley rafter fit perfectly, it all seemed worthwhile.
For more photos, drawings, and details, click the View PDF button below:
View PDF