How-To
On Pulling Nails
Use good tools and the right technique.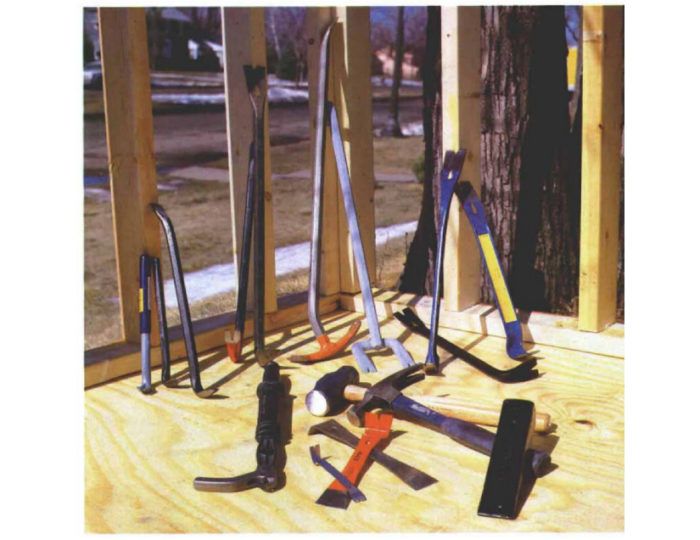 Synopsis: Here's a rundown on the surprisingly large number of tools made to extract nails from wood. The author discusses their use and adds some tips to make this job a little easier.
Unless you specialize in salvage work, chances are you'll hear five times more about hammering nails than you will about pulling them. Carpenter Duane Clarke, of Burnsville, Minn., has a theory on why this might be. His hunch is that there's a stigma attached to the subject of pulling nails, which probably stems from when we were all beginners and were taught that pulling a lot of nails on the job was a sign of incompetence.
Another reason, Clarke speculates, is that pulling nails is more or less a personal thing. There are no hard-and-fast rules. How you do it depends not only on the tools you use, but also on techniques you pick up by watching others and trying different ways yourself.
According to Clarke, there are two basic kinds of nail pulling. First there is pulling nails that are bent while hammering or mistakenly driven into the wrong place. Anytime you watch a crew frame up a house, you'll see a fair share of this. Knots, slippery hammer faces, defective or weak-shanked nails and awkward nailing positions can all lead to bent nails. So can poor hammering technique.
Then there's pulling nails in order to dismantle or recycle lumber. Here nail pulling may be a secondary objective; the first order of business is to get that lumber apart, and then take care of the nails later.
The difficulty of removing a nail depends on the nail itself, how it was driven, and what it was nailed into. Hot-dipped galvanized nails, spiral or ring-shanked nails and cement-coated nails are harder to pull because the shank surface creates a lot of friction. The resin-type adhesive on a cement-coated nail actually "sets" when the nail is driven, creating a bond between wood and metal. Duplex nails, on the other hand, are made to be pulled. They're used for temporary fastening of such things as scaffolding, wall bracing or concrete forms.
Leverage
Over the years hand-tool manufacturers have come up with quite a variety of nail pullers. These tools have either claws or slots to capture the nail head, a prybar to loosen nails by forcing lumber apart or a blade to sever nails. Many nail-pulling tools combine these features. Unlike other areas of carpentry, nail pulling hasn't been motorized. There are no pneumatic or electric nail pullers.
All nail-pulling tools use what physics teachers call first-class and second-class leverage. With first-class levers, the fulcrum (or pivot point) is between you and the load, or the nail you are pulling. This is the leverage you get with hammers and other tools with claws at 90° to the handle. The second-class lever has the load between you and the fulcrum. This is the kind of leverage you get when you pull up on tools with nail slots in the handle.
For more photos, illustrations, and details, click the View PDF button below:
View PDF