How-To
Out in the Cold
Gearing up for cold-weather construction.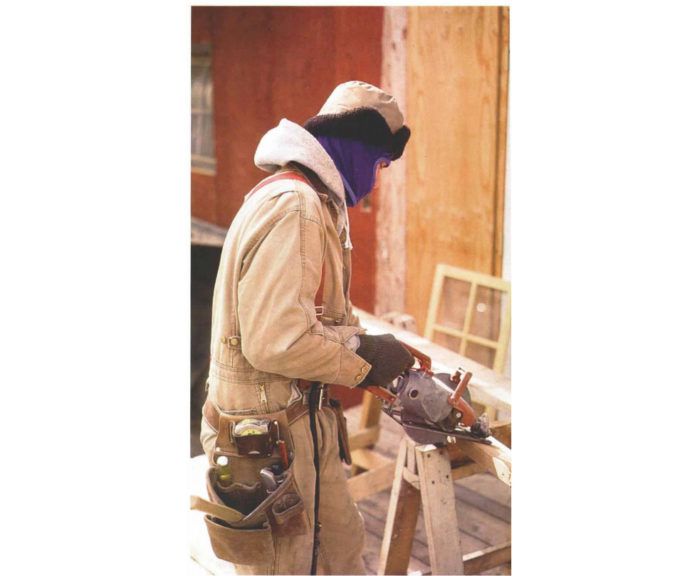 Synopsis: A builder who works year-round in Alaska shares tips on how to stay warm while working in very cold weather. He details the gear that keeps frostbite away. He also has some advice about tools and equipment.
In Fairbanks, Alaska, where I build custom houses year around, the winters are long and frigid. Trees shed their leaves in mid-September and the snow starts to stick early in October. Temperatures can plunge below zero by Halloween and can linger around -30° F to -40° F anytime before mid-April.
There are plenty of good reasons to go into hibernation until the spring thaw, but there are compelling reasons to keep working. A steady income is one of them. If you're an employer, you'll also want to keep your crew busy year around or risk losing them to builders who will. You can also avoid running double shifts and paying overtime in the summer to finish up projects before cold weather arrives. Lastly, some projects are done more easily and efficiently in the winter, such as the transporting of materials to remote sites over frozen ground instead of mud.
If you're planning to work in this kind of weather, though, you'll need to winterize your tools and your body first.
Winterizing your power tools
My power tools usually ride to work on the floor of my truck while the heater blows on them. Once my worm-drive saw is warm, it will do fine as long as it's being used. If I allow it to sit for an hour or two, though, it will need to be warmed up again. A dead-cold saw at -20° F can take at least a half hour to work properly, so plan ahead and try to do as much cutting at one time as possible. Storing the saw near a space heater between cuts is great, but beware of getting too close; a melted saw is not a pretty sight.
A lot of carpenters, including me, use a low-viscosity gear lube in their worm-drive saws. I use Frigid-Go, a synthetic oil made by Quantum Chemical. You can also thin the gear lube with kerosene. This can be a big help in a pinch, but will eventually result in leaky seals that require replacement. Thinning with kerosene will also require that the level of the gear lube be checked on a regular basis. Some carpenters winterize the bearings in their saws. My worm-drive saw has two sealed bearings on the motor's armature shaft and two more on the arbor assembly. For a cost of from $30 to $50, our local service center will replace them with unsealed bearings that can be lubed with a grease made for cold weather, such as Lubriplate Cold Weather Lube (Fiske Bros. Refining Co.). You can also change the bearings in the rest of your power tools, but don't put unsealed bearings in tools that produce alot of fine dust, such as belt sanders. The dust will work its way into the unsealed bearings and wear them out quickly. Any bearings that are changed have to be changed back in the spring, so this can get expensive. Also, changing the bearings in a power tool will sometimes void the warranty, so you may want to check with your dealer first.
For more photos, charts, and details, click the View PDF button below:
View PDF