Replacing Garage-Door Panels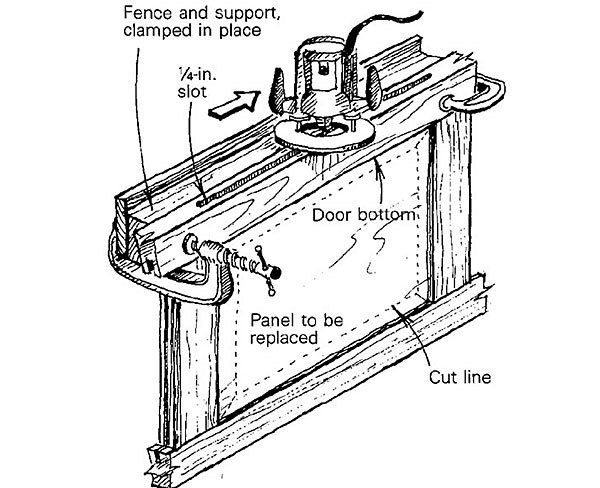 My frame-and-panel garage door had a nasty gouge in one of the bottom panels. My job was to figure out a way to remove the 1/4-in. thick panel without ruining the rest of the door. To do so, I turned to my router.
After removing the door and placing the damaged panel upside-down, I clamped a 2x support adjacent to the bottom frame, as shown in the drawing. Next I used a plunge router fitted with a 1/4-in. straight-flute bit to make a slot in the door bottom. I had to make the slot about 1 in. deep to get to the panel, and I made my passes in 1/4-in. deep increments to avoid overloading the router or straining the bit. Slot cut, I ran my jigsaw around the perimeter of the damaged panel, cutting it into easily removable pieces. To finish the job, I slid the new panel in place through the slot in the bottom of the door. Then I filled the slot with a glued-in-place piece of 1/4-in. stock.
—Elliot Eisenberg, Conyngham, PA
Edited and illustrated by Charles Miller
From Fine Homebuilding #53