Tools & Materials
Airtight Kneewall Access Door
The kneewall access door from Fakro ensures proper insulation between conditioned and unconditioned spaces in homes with vented attics.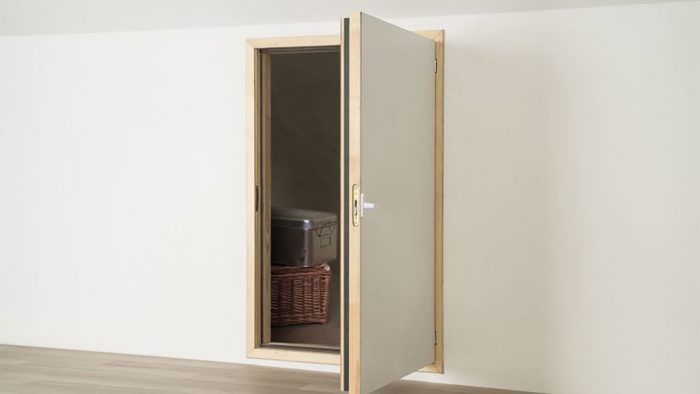 In houses with vented attics, kneewalls separate the conditioned interior living space from the unconditioned areas at the eaves. Kneewalls must be air-sealed and insulated.
If the kneewall space is accessible, such as for storage, the door or access panels used to get behind the kneewall must be insulated and have weatherstripping. A skilled carpenter can make an airtight and insulated attic access by cutting down the jambs and door panel of a larger wood or steel prehung door from the lumberyard. But if you're looking for a ready-made solution, consider the Fakro kneewall access doors, which I first saw at this year's International Builders' Show.
The little doors are available in two sizes—22-1/2 in. by 31-1/2 in. and 27-1/2 in. by 35-1/4 in.—and come with latching hardware and weatherstripping for a tight seal. They are made just for separating conditioned spaces from low-headroom unconditioned spaces. R-values for these doors range from R-5.2 for the DWK model to R-9.5 for Fakro's new, more energy-efficient model. There is also a fire-rated door with an R-value of 8.9. In addition to kneewalls, I think these doors would be equally useful for separating conditioned basement spaces from unconditioned crawlspaces. Pricing for the series starts at $262.
Photos courtesy of the manufacturer.
---
RELATED STORIES