How-To
Plate Joinery on the Job Site
Quick and easy insurance against joints opening up.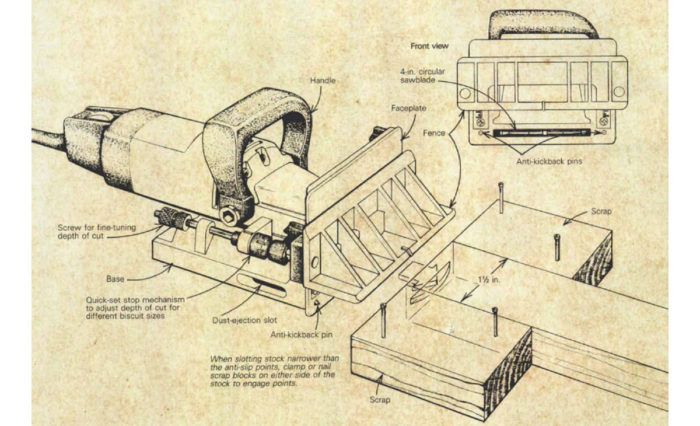 Synopsis: The amazingly versatile biscuit joiner leaves the woodshop and shows up on the job site. The author details a number of applications for this tool, including door casings, shelves, and cabinets, to prevent joints from opening up down the road.
Like most people when they first buy a plate joiner, David Mader, a carpenter in Yellow Springs, Ohio, wanted to find out how strong plate joints really are. Mader crosscut a 2×4 and reassembled it with a pair of no. 20 plates (the largest size available), one over the other. After letting the glue dry, Mader tried to break the 2×4 over his knee. He couldn't do it. Convinced of plate joinery's strength, Mader proceeded to use his plate joiner to butt-join custom flooring that wasn't end-matched.
Often considered the province of shop-bound woodworkers, plate joinery, it turns out, is being used more and more by carpenters on the job site. Plate joinery and biscuit joinery are the same thing, and in this article I'll use the terms interchangeably.
The basic idea behind plate joinery is simple: plunge a 4-in. circular sawblade into a piece of wood, and you get a crescent-shaped slot. Make a series of these slots along the edges of two boards that you want to join. Insert glue and a football-shaped wooden spline into each slot on one board. Insert more glue into each slot on the other board, then press the two boards together. Water from the glue causes the splines to swell, making a strong, tight joint.
Biscuit-joiner basics
The typical biscuit joiner is a cylindrical machine, about 10 in. long, and weighs between 6 lb. and 7 lb. It has a D-shaped handle on top and a spring-loaded faceplate in front with an adjustable fence. When the tool is pressed against the workpiece, a 4-in. carbide-tipped blade extends through a slot in the faceplate and scoops out a kerf in the workpiece. You can adjust the distance between the kerf and the face of the workpiece, but any closer than 3/16 in., and the biscuit, or plate, may pucker the surface of the wood when it swells. You can also adjust the depth of the kerf to fit the size of biscuit you're using.
Biscuits come in three basic sizes (all three are arcs of same circle): #0 is about 5/8 in. wide and 1 3/4 in. long, #10 is 3/4 in. wide and 2 1/8 in. long, and #20 is 1 in. wide and 2 1/2 in. long. Biscuits are made of beech with the grain oriented diagonally to the length, making them very strong across their width. Biscuits are also compressed so they'll fit easily in the kerf and then swell once the glue hits them. All biscuits are slightly shorter than the kerf they fit into, which not only allows room for excess glue but also provides some play for aligning a joint along its length. This gives biscuit joinery a distinct advantage over doweling as an indexing technique.
Plate joinery works in hardwood, softwood, plywood, particle board and even in solid-stir-face countertops (using Lamello's clear plastic C-20 biscuits). Plates can be used in edge-to-edge joints, butt joints and miter joints.
For more photos, drawings, and details, click the View PDF button below:
View PDF