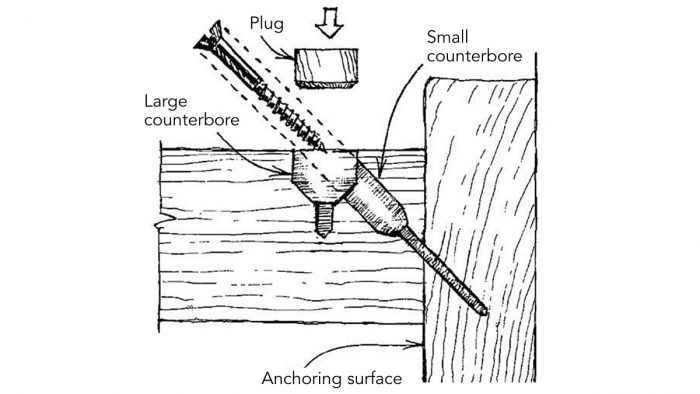 During the course of my work, which is primarily finish carpentry, I find it necessary to angle a screw in toenail fashion from time to time. A typical example is the intersection of a handrail with a wall. The problem is that if the screw is countersunk and counterbored, the angled counterbore can't be easily capped with a plug or a button.
I solve this problem by first drilling a larger counterbore — usually 1/2 in — at a right angle to the surface of the stock. I make this hole as shallow as possible. As shown in the drawing, the second counterbore — usually 3/8 in — begins inside the larger counterbore and angles toward the anchoring surface.
It takes a little practice to know exactly where to begin the hole for the screw inside the first hole and to drill the screw's counterbore deep enough to allow the screw head to clear the bottom of the plug. So try it on some scrap first.
Jeffrey S. Janssen, Nevada City, CA
Edited and Illustrated by Charles Miller
From Fine Homebuilding #71