Tools & Materials
Using a Cargo Rack
Organizing the load and knowing the right knots are the keys to transporting building materials safely.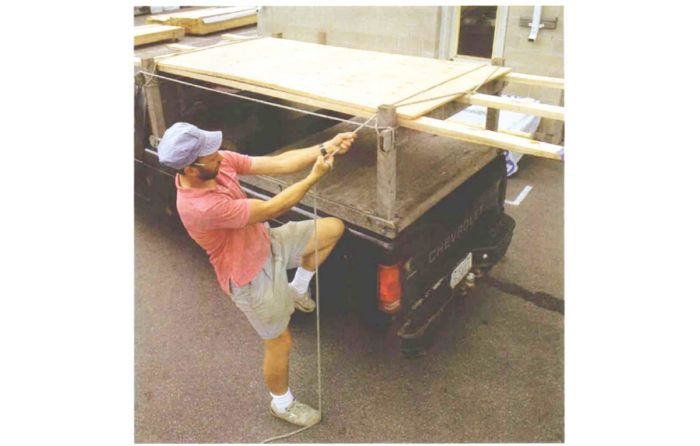 Synopsis: Getting lumber to ride quietly on your pickup's cargo rack will be easier if you learn a few knots and some stacking techniques. This is a good introduction to the topic, with illustrations that will have you tying a tow-boat hitch or cargo hitch in no time.
There is an old saying that "getting there is half the fun." The home builder's variation on that expression might be, "getting it there is half the challenge." Indeed, transportation of tools and materials to the job site can be a nail-biting experience, especially if you've got a winding road to travel or if you have to stop suddenly.
In this article I'll tell you about the methods I use to tie down a load of lumber to make sure it stays put. The most important details are the knots, but first let's look at a typical rack and how it should be loaded.
Racks, ropes and tie-downs
Most contractors outfit their vehicles with a rack that consists of a pair of big, H-shaped frames made of steel or wood. The frames' crossbars run parallel with the vehicle's axles and are joined with horizontal bars that add rigidity.
If the rack members are wood, all joints should be carriage-bolted together and inspected regularly for tightness. Metal racks should be checked for signs of fatigue — especially at the welds. No matter what the material, racks should be mechanically fastened to the vehicle. If the rack is attached to sheet metal, use backing plates and through-bolts. Don't depend on gravity to keep racks in the integral pockets found in the comers of some pickup beds. They should be bolted through the body of the bed.
There are three basic types of tie-downs: horned cleats, hooks and rings or fixed loops. I think the horned cleat is probably the strongest and most versatile of this group. Hooks also are easy to work with and allow for quick rigging. Rings and fixed loops are the most inconvenient tie-downs because the entire rope has to be fed through one of them to function properly. While not the most convenient places to tie off a rope, the horns of the racks can also serve as tie-downs. The horns are the short, vertical sections of the rack that extend above the crossbars.
Every hardware store has a shelf of proprietary tie-downs that use straps, ratchets, elastic shock cords or clamps to secure cargo to a vehicle. But I don't think any of them are as versatile as a good length of rope.
A good cargo rope is about 3/8-in. dia. It should have minimum stretch yet be flexible and easy to handle. A 50-ft. rope should be sufficient to handle even the most complicated rigging jobs on a standard pickup.
For more photos, drawings, and details, click the View PDF button below:
View PDF