How-To
Aligning Eaves on Irregularly Pitched Roofs
Making soffits and fascias line up when intersecting roof pitches aren't the same.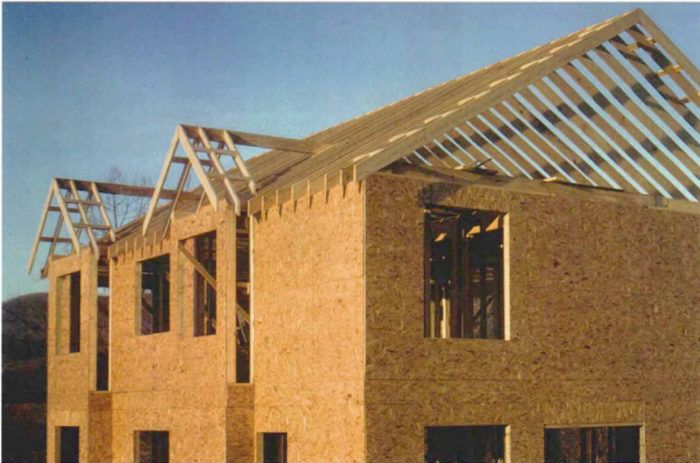 Synopsis: Trim can seem next to impossible to install along roof lines where roofs of different pitches intersect. This article explains how to do it. A good guide for experienced builders.
Pick up a catalog of stock house plans in any supermarket these days, and you'll see that cutup roofs — roofs with lots of hips and valleys — are back in fashion. The highly competitive new-home market has compelled builders to spice up their roofs with tasty devices such as Dutch hips and wall dormers. The desired effect is curb appeal, which is the elusive but all-important quality that plays to the homebuyer's romantic notion of what a dream house should look like.
As long as all intersecting roof slopes are inclined at the same pitch, framing a cut-up roof can be fairly straightforward: When the slopes are the same, all of the hips and the valleys run at 45° in plan. Consequently, all hip-, valley- and jack-rafter cuts can be made on a simple 45 ° bevel (the cheek cuts), and only two plumb-cut angles are required: the common-rafter plumb cut and the hip/valley-rafter plumb cut.
However, combining steep-roofed projections with a medium-pitch main roof is a good way to compromise between cost and curb appeal. A roof system usually starts with a main gable, and increasing the gable's pitch dramatically increases material and labor costs. Cosmetic roof features such as dormers are much smaller, so increasing their pitch won't have the same impact on cost as will increasing the pitch of the main roof.
Because the usual purpose of cosmetic features is to lend drama to a home's facade, there may be a strong incentive to make secondary roofs steeper than the main roof, especially on the street side.
While adding steeply pitched features to a medium-pitch main roof might seem like an ideal way to increase curb appeal, it complicates the framing considerably. I recently built a house that has such an unequal-pitch condition, and here I want to talk about some of the difficulties I encountered and how I resolved them.
For more photos, drawings, and details, click the View PDF button below:
View PDF