Before the Build: Goals of an Energy-Retrofit
Jon Beer explains the challenges and plans for transforming his small and dark 1950s ranch house into a spacious home for a future family.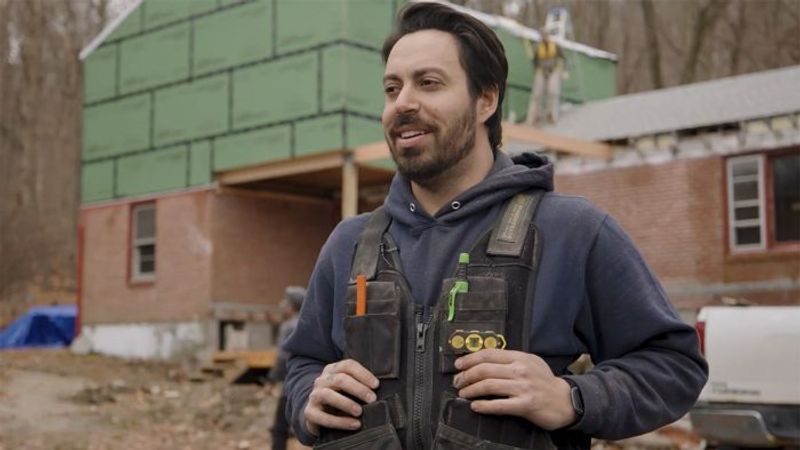 In this video, Jon Beer, owner of Jon Beer Contracting, overviews the progress he and his team have made so far in retrofitting his 1950s ranch house and describes the goals he has for the rest of the project. Jon plans to turn a small, dark home that has been abandoned for a decade into something spacious for his future family by adding two additions. So far, the crew has stripped off the existing roof and added a new floor system. Plans for the home include using ZIP System, updating the windows, and installing Japanese Shou Sugi Ban siding.
Here's the transcript:
I'm Jon Beer, and we're here in Cornwall, New York. I run a small design-build contracting business in the Hudson Valley which is about an hour north of New York City. We have four guys in the field, including myself, doing mainly residential work. The majority of that work is renovation, remodels, and additions. Because we are design-build, a lot of the design process is handled in-house by myself.
Our hope with this project is to take this house that was built in 1956, which is rather small and a little bit dark, and transform it into a large space for our future family. All in all, I think at the end we're going to be somewhere around 2100 sq. ft., which I think is a generous size for four people. In total, we'll add on about 800 sq. ft. through two additions. One is behind me, which is a new second story. That second story has two offices—one for myself and my fiancée—and a primary bedroom and primary bathroom for us upstairs.
This project is a little different from what we normally do, mainly in its scale. To be totally honest, I've never done a full ground-up construction, and to date, this is the largest addition that I've performed with this current crew. For us, this kind of mirrors what we're seeing among our clients who are buying existing housing stock. Since the pandemic, we're seeing an increase in people wanting to expand their space. They're finding that there often isn't enough separation in the interior. People want to have more flexible work opportunities. They want to be at home.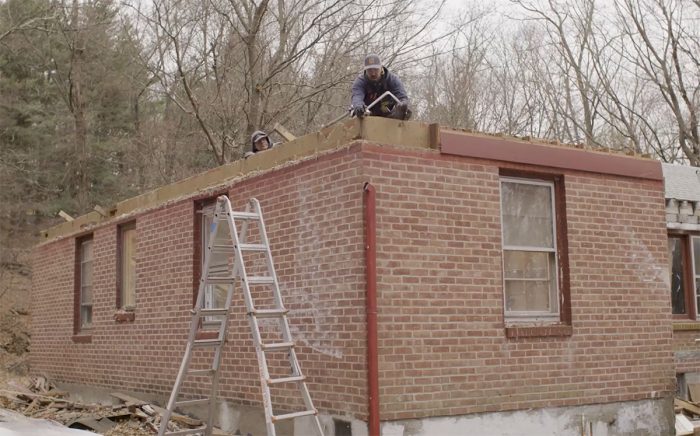 We have done more renovation and remodeling than we have done total new construction. As a result of that, we've become a little bit specialized in it. We're dealing with some of the same kind of issues of tying new structures and old structures together and trying to give people a more cohesive space with what they have. I also think that in terms of green impact, working with existing housing stock and turning that and transforming that into more usable spaces for people's current needs is a little bit less wasteful than starting ground-up when someone needs a new house.
In the last three weeks, we've ripped the roof off on the right-hand side there and we built a new floor system. It's an I-joist construction, 16 on-center, and started to build a new second story from there. Prior to this project, my company had only done one roof-off addition, which was for repeat clients of ours. I was really glad to have that in the schedule before we started working here so that I could have a sense of all that's involved in physically taking off the roof, evaluating the structure, even having a sense of: How long will it take us to cut the roof off? What's the best way to do that? Is it a two-person team? Is it a three-person team? Where do we want the dumpster? Where do we start?
There's a lot of logistical things that go into building that having experience with is always helpful. It's not the best time of year to do it, but we have to get through taking it off and putting it back on in a pretty short amount of time. So for us, that experience was key.
We have gotten through the phase of the project that was most scary to me, which is building the second story. I didn't know what we were going to find as far as structure and literally connecting the new wood framing to the old wood framing. I wasn't sure how the veneer brick would impact that. Because it's only a single width and it's not structural, we're not allowed to bear on it directly, so that was a challenge that I wasn't sure how we were going to tackle until we literally had the roof off.
There's always some added pressure when you're totally open to the elements and you have to work toward flat, toward level, plumb, while trying to keep the elements, staying on schedule, and dealing with getting longer lead time items, which in framing means I-joists, LVLs—things that we've struggled to get in the past. Luckily, timing worked out. Once the roof was off and the new floor system was together, about a week had elapsed. And then from there, we started building all our walls flat on the new deck.
You can see we're using the ZIP System by Huber. It's a product that we've started to work with in the last couple of years and allows us to get weathertight in a very short amount of time. Instead of using OSB and Tyvek, we're able to frame on the flat. We tape as many seams as we can, and then we stand our walls up and start connecting everything together. We have been very lucky with the weather here in New York, but for the most part, we were able to get the structure dried in in about three weeks.
Personally, the scariest part for me is the roof work. I'm not a fan of heights—I'm going to be honest about that—and being up there is not something I like to do. One thing I'm really excited about is that the majority of the new frame structure is going to be clad in a charred Shou Sugi Ban Japanese-style siding (from Nakamoto Forestry). It's a product we've used before. It's also made in a traditional way. There's a sense of craftsmanship and woodwork that comes through that product that's exciting.
We're doing a mix of window styles, but they will all be casement in one variety or another. We do a lot of window restoration, and it can be difficult to air-seal old windows, but we're hoping to air-seal this structure well.  I personally have always loved ranch houses. There's something about that low-slung, long shape that's really interesting to me. One thing that I love and am excited about is the way that this new second story slots on top of the existing structure.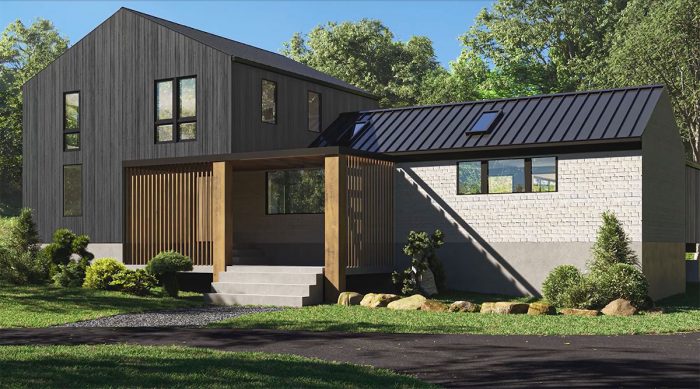 I also love that we're taking something that was abandoned for 10 years, that someone else may have looked past, and are transforming it into a new home for myself. I'm also really excited to be having an opportunity to do a more comprehensive whole-house design, not only aesthetics, but to be able to have a hand in deciding what systems we use, what subcontractors we work with, and what products we use. My hope is to, in the future, build affordable Passive Houses, and so this project has a twofold opportunity of becoming an aesthetic playground for me to develop my vision, but to also gain a better understanding of how to build well, but build affordably, and see how we can balance those things out.
There are a lot of things, to be honest, that are still up in the air as far as interior fixtures go, but we do have a pretty good idea of how we want to do our kitchen. It's a space that's really important to us. I'm excited to work with some local cabinet shops to design and build our cabinets together and to make a space that we have on paper and that we've drawn over the last year. It's going to be exciting to bring that to life for us. It's a challenge that I think suits our team well.
I'd like to think we're all natural problem-solvers, whether that is in the initial design process with an architect or with a homeowner, but also as we actually get into the nitty-gritty of connecting old and new structure, connecting old and new spaces, and creating a sense of cohesive feeling at the finish line for everything. Thanks for joining us here today at the Fine Homebuilding House for 2023. We'll see you here in Cornwall at the next one.
---
RELATED STORIES