Design
An Adirondack Farmhouse
Like the great camps that inspired it, this house endures harsh winters while maintaining a character all its own.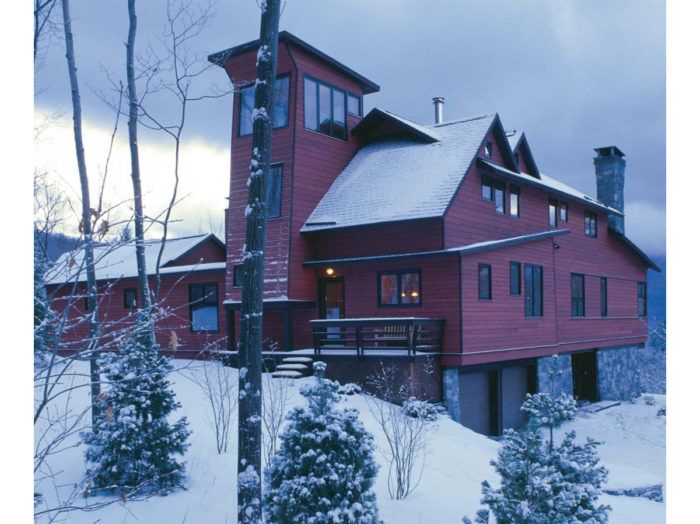 Synopsis: A Pennsylvania architect describes the design of a vacation home built in New York State's Adirondack Mountains, which draws on the traditions of the Great Camps that were once built there while remaining warm, inviting, and light-filled.
The great camps of the Adirondacks are in a world to themselves. Built as summer retreats during the last half of the 19th century, they appear to sprout from their sites, which often are the shores of remote lakes in deep woods. These camps are built of materials found on site: logs, branches and twigs twisted into everything from roof trusses to stair treads to bedsteads (hence the expression "twig work"). Most of these camps feature lofts and balconies, great stone fireplaces, huge doors that slide away to reveal the open air, covered walkways and wrap-around porches.
This picture-book image was about all my brother Garrett and I knew of the area before our clients introduced us to the Adirondacks on a wet November weekend two years ago. At the end of a long dirt driveway lay their clearing, tucked into the edge of a ridge that dropped steeply to a stream. Standing at the edge of the site, they gestured enthusiastically at the view. Although we saw only fog, our clients assured us the view was there and insisted that their future house take full advantage of it. The house also should capture the essence of the famous camps by maintaining a flirting familiarity with tradition yet display a character of its own.
Our clients wanted us to design a house that would have three bedrooms and high ceilings, and be equally comfortable for a crowd of 20 or for a single couple. Above all, the house was to take advantage of its location, embrace the view and nestle into the ridge while remaining warm in the extreme cold, light on the darkest day, open to breezes and impervious to bugs.
An L-shaped design takes best advantage of the site
Siting a house to maximize light and views while protecting it and its occupants against an extreme climate is a delicate operation. This job was complicated because the prevailing winds and the harshest weather came from the southwest, which is where the winter sun shines brightest and where the view is the most spectacular.
From the beginning, an L-shaped floor plan seemed the most logical. With the L we were able to match the house to the different slopes of the ridge. Shifting the length of the L just off the north-south axis and the short leg to the eastwest would create a bowl to catch the warmth of the sun and deflect the worst of the weather. The two ends of the L would allow public and private realms to be separate.
For more photos, drawings, and details, click the View PDF button below:
View PDF