Tools & Materials
An Overview of Common Insulation Materials
Learn about the comparative properties and uses of 13 types of insulation.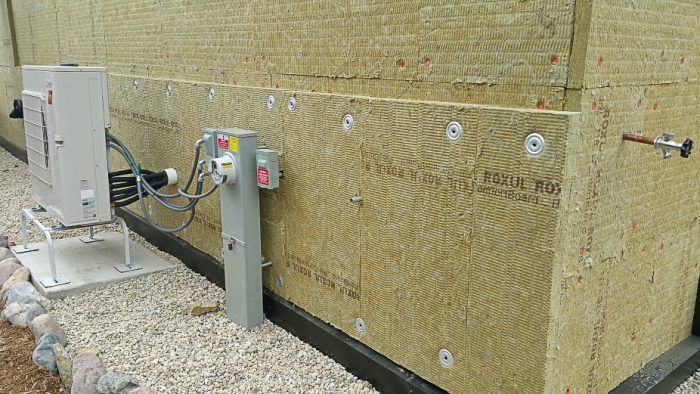 Choosing the most appropriate type of insulation should be part of an overall strategy of materials selection. The underlying purpose of green building is not to develop marketing brochures that will help sell "green" houses in suburban subdivisions, but to make decisions that genuinely benefit people and the planet. This makes a strong case for finding ways to use insulation and other materials with low carbon emissions.
Insulation by type
Note: Net carbon emissions as reported by Builders for Climate Action are for a layer of insulation with an insulating value of R-10. Values are reported as kilograms of C02 equivalent per sq. m.

Fiberglass Batts
Available in two standard widths for wood-frame construction, batts are commonly available with formaldehyde-free binders. Batts consist of spun glass fibers and come with or without a facing, such as kraft paper or foil. Widely available. Careful installation is essential to avoid gaps that reduce its effectiveness. Batts are not an air barrier, and they can't be used below grade. Good candidate for DIYers.
R-Value: R-3.1 to R-4.2 per in., depending on density
Cost: Low
Net carbon emissions: Low (1.2 kgCO2e/m2)
Toxicity: Low, but wear a face mask and long sleeves to reduce skin and bronchial irritation (some brands are advertised as no-itch)
Installation: DIY heaven, but beware of sloppy work that reduces effectiveness
---
Blown-in Fiberglass
In loose form, fiberglass can be blown onto attic floors or, in higher densities, into wall and ceiling cavities. It's available by the bag from-big box retailers. The fibers fill voids more effectively than batts, reducing air leaks, but blown-in fiberglass is not considered an air barrier. Johns Manville's Spider Plus Blow-In and the Blown-In-Blanket System (BIBS) are two proprietary products for enclosed cavities. Loose-fill in an attic has DIY potential but dense-pack application requires better equipment and more skill. Use in above-grade in walls, ceilings and attics.
Cost: Low
R-Value: R-2 to R-4.2 per in.
Net carbon emissions: Low (1.8 kgC02e/m2)
Toxicity: Low
Installation: Hire a professional for dense-back installations
---
Mineral Wool
Mineral wool refers to both rock wool, which is spun from molten filaments of basalt or another type of rock, and slag wool, made from blast furnace slag. Mineral wool contains an average of 70% post-industrial recycled content and needs no chemical flame retardants. Available in unfaced batts, semi-rigid panels, and for use in blow-in applications in walls and attics. Brand names include Rockwool and Thermafiber. In panel form, it can be used below grade and as a continuous layer of insulation on exterior walls to reduce thermal bridging. Mineral wool is air and vapor permeable, and provides high fire resistance. Availability may be limited in some areas.
R Value: R-2.9 to R-4.3 per in.
Cost: Moderate
Net carbon emissions: Moderate (R-4/inch batts contain 4.7 kgC02e/m2; mineral wool board 5.1)
Toxicity: Low
Installation: Similar to fiberglass. When used as continuous, exterior insulation behind a rain screen, panels may be compressed unevenly by strapping.
---
Cellulose
Cellulose is shredded newspaper or cardboard, available by the bag or in batt form. There are no rigid panels. Cellulose has strong environmental credentials and it's a favorite among many green builders because it has high recycled content. Unlike fiberglass, which has about the same R-value, cellulose sequesters carbon. It can absorb moisture from the air and then release it when the air dries out. But because it readily absorbs water, plumbing and roof leaks can go undetected. It's used as both loose-fill in attics, and as dense-pack and in batt form in enclosed wall and ceiling cavities. Dense-pack cellulose installed at 3.5 lb. per cu. ft. is more resistant to air leaks than fiberglass, but cellulose is not an air barrier. It can be used in above-grade applications only. DIYers can rent blowers for loose-fill, but dense-pack calls for professional tools and skills. It is typically treated with borate as a fire retardant.
R-Value: 3.2 to 3.8 per in.
Cost: Low (somewhat more than blown in fiberglass)
Net carbon emissions: Sequesters carbon (dense-pack cellulose sequesters 1.8 kgC02e/m2)
Toxicity: Low
Installation: Similar to blown-in fiberglass; DIYers can tackle loose-fill in attics but hire a professional installer for dense-pack. Wear a face mask.
---
Cotton Batts
Made principally from denim scraps with some additional synthetic fiber, cotton batts can be used in above-grade wall and roof assemblies. Not for use below grade, and air permeable. Unfaced batts come in oversized widths for a friction fit in framing cavities. Some installers complain it is difficult to cut and doesn't always bounce back after compression. Like other types of batt insulation it must be fitted carefully around wires, pipes and other obstructions in wall and ceiling cavities. More expensive than fiberglass and mineral wool batts, but Bonded Logic, which manufactures Ultra Touch, promotes its no-itch natural fiber content. It is treated with borate for fire resistance, and includes high recycled content (80% post-consumer).
R value: R-3.5 to R-3.7 per in.
Cost: Moderate
Net carbon emissions: Not available
Toxicity: Low
Installation: Similar to other friction-fit batts, but not as easy to trim. Manufacturers emphasize "no itch" qualities.
(Batt insulation is made from wool, but it's not a product that's widely available in the U.S. Havelock Wool claims R-3.6 to R.4.3 per in., and says this hygroscopic material has high fire and mold resistance. Wool insulation has moderately low embodied carbon—2.3 kgC02e/m2 for batts, 3.4 for loose fill. Costs will be relatively high.)
---
Straw
Straw has extremely attractive environmental credentials. It is reclaimed agricultural waste, a raw material that is completely renewable and, regionally, widely available. It has very low toxicity, good fire resistance, and very high carbon capture. Straw mostly is used in the form of bales that are assembled into walls onsite, and then finished with stucco or plaster. It's also available in panel form. EcoCocon, a European manufacturer operating in the U.S. as Build With Nature, offers a 15.7-in.-thick structural insulated panel with an R-value of 38. The load-bearing panels with a continuous layer of wood fiberboard insulation cost about $18 per sq. ft. (this number includes wall structure as well as insulation). Straw bale construction is not common, but proponents are passionate about its advantages. It has low R-value per inch but thick walls make up for it. Bales can be used as structural components or as infill in wood- or steel-framed structures. Straw bales are susceptible to water damage, so buildings need wide roof overhangs, careful flashing over windows and doors, and separation from moist materials. It offers high DIY potential.
R-value: R-1.4 to R-2.4 per in.
Cost: Low (bales) to high (prefabricated panels)
Net carbon emissions: Sequesters carbon (-14.5 kgC02e/m2)
Toxicity: Very low
Installation: Straw bales can be incorporated into buildings as infill or structural components as a low-tech building method friendly to owner/builders. Straw panels are comparable to other types of structural insulated panels (SIPs).
---
Hemp
Hemp is another renewable agricultural material that scores well on the BEAM carbon sequester scale, second only to straw. But hemp insulation has struggled to gain a toehold in the market and supplies of hemp insulation are spotty. A Kentucky company called Sunstrand LLC was producing R-13 batt insulation for 2×4 walls, but the company filed for Chapter 7 bankruptcy early in the year. A Quebec-based company, MEM Inc., continues to produce hemp blocks as well as sheets of hemp insulation 3 ½ in. and 5 ½ in. thick with R-values of R-13 and R-20, respectively. The insulation is 88% hemp and 12% polyester. Hempcrete is another form of hemp insulation. It's mixed from hemp hurds (the cores of the plant), plus lime and water, and formed into blocks in steel or metal frames or tamped into moveable lifts to make larger wall sections. The low-density material is not load-bearing. It is vapor permeable. Hemp can be ordered from companies such as American Lime Technology. For more information, contact the U.S. Hemp Building Association.
R-value: R-1.2 to R-3.7 per in.
Cost: Moderate
Net carbon emissions: Sequesters carbon (-3.1 kgC02e/m2)
Toxicity: Very low
Installation: Hemp panels are installed between studs on 16-in. centers. Hempcrete blocks and wall sections can be made onsite and may have the same DIY appeal as straw-bale construction.
---
Wood Fiber
Wood fiber insulation comes in several forms, including rigid panels, batts, and loose material that's blown into enclosed cavities in the same manner as cellulose or fiberglass. There are currently no U.S. manufacturers, although a Maine company is planning to start production of some forms of wood fiber insulation in 2021. Two imported brands are Steico and Gutex, both manufactured in Europe. Although expensive now, wood fiber has several appealing characteristics—it is manufactured from a renewable resource without petrochemicals, has no embodied carbon, and has low toxicity. Panels are non-structural and vapor-open. It is often used as continuous layer of insulation on roofs and exterior walls. European products come in odd sizes.
R value: Panels R-2.7 to R-3.7 per in. Batts R-3.9 to R-4 per in. Blown-in R-3.6 to R-3.8
Cost: High
Net carbon emissions: Sequesters carbon (batts rated at -1.9 kgC02e/m2)
Toxicity: Very low
Installation: Loose wood fiber is handled like cellulose—panels go up like rigid foam and can remain exposed to the weather for a number of weeks without damage.
---
Cork
Manufacturers point to the strong environmental credentials of cork insulation—100% renewable, recyclable, and about as green as it gets if you don't figure in transportation from the western Mediterranean where cork oaks grow. ThermaCork, a supplier, lists panels from 1/2 in. to 3 in. thick. Expanded cork board is made from the outer bark of the trees, which reportedly suffer no harm in the harvesting process and may live to be hundreds of years old. Eco Supply Center, a U.S. distributor for ThermaCork, says 95% of cork products come from Portugal. The company says cork insulation was once common in the U.S. and was actually used at the White House. It is semi-vapor permeable (2 perms at 2 in. thick).
R-value: R-3.6 to R-4.2 per in.
Cost: High
Net carbon emissions: Not available
Toxicity: Very low
Installation: Installed like other insulation boardstock. Some versions can be used as exterior cladding, where it weathers from a chocolate brown to a concrete-like shade.
---
Expanded polystyrene
EPS is a lightweight, rigid-foam panel used in a variety of applications—as a continuous layer of insulation in exterior wall and roof assemblies to cut thermal bridging, under slabs, and on the outside of foundation walls. Unfaced EPS is vapor permeable and available in a number of densities with corresponding compressive strengths. Higher densities do better below grade. The blowing agent for EPS is pentane, a hydrocarbon. EPS does not contain hydrochlorofluorocarbons, a potent greenhouse gas, and for this reason is preferred by many green builders. EPS manufacturers in the U.S. have replaced a brominated flame retardant called HBCD with Polymeric FR, which is thought to be safer. Thermal performance does not degrade over time. Neopor is an EPS variant developed by BASF that is infused with graphite. It has a characteristic gray color and a higher R-value than conventional EPS. It is more common in Europe than the U.S. Neopor has lower carbon emissions.
R-value: R-3.6 to R-4.2 per in. (Neopor, R-4.7 per in.)
Cost: Moderate
Net carbon emissions: Moderate (Type II R-4 board, 6.6 kgC02e/m2; Neopor, 4.9)
Toxicity: Low
Installation. Used in wall and roof assemblies, under slabs (at the correct density), on foundation walls, and in insulating concrete forms. Lightweight and easy to handle.
---
Extruded polystyrene
XPS is another common rigid-foam panel with slightly higher R-values than EPS. One of the principal differences chemically between the two is that all XPS has until recently been made with a hydrofluorocarbon (HFC) blowing agent with more than 1400 times the global warming potential of carbon dioxide (HFC-134a). This alone steers many green builders toward another insulation choice. However, Owens Corning, a major U.S. manufacturer, has recently announced a switch to a new formation that eliminates HFC-134a. Somewhat higher in cost than EPS, and thermal performance declines over time, a phenomenon called thermal drift, as the blowing agent slowly dissipates and is replaced with air. Exactly where the R-value bottoms out is unclear, but this article at GBA suggests it will decline to R-4.5 in the first 20 years, and eventually to R-4.1 or R-4.2. It is available faced and unfaced. There are three makers in the U.S.—Owens Corning, Dow, and Kingspan. It is not as vapor permeable as EPS (perm rating of about 1 for an unfaced, 1-in.-thick panel).
R-value: R-5 per in. (when manufactured)
Cost: Moderate
Net carbon emissions: From high (Owens Corning NGX, 14.3 kgC02e/m2) to extremely high (conventional XPS blown with HFC-134a, 98.7 kgC02e/m2)
Toxicity: Low
Installation: Similar uses as EPS
---
Polyisocyanurate
Polyiso completes the trio of commonly used rigid-foam insulation. Because of the method used to manufacture polyiso, it is always faced. Foil facing makes it vapor impermeable. One big difference in the field is that polyiso is not rated for ground contact, so it's never used below a slab or to insulate foundation walls from the outside. One of its principal uses is as roofing insulation. Polyiso is subject to thermal drift, with its R-value dropping from about R-6.5 per in. at the time of manufacture to about R-5.6 or R-5.7 per in. over time. Polyiso also has another quirk: its thermal performance goes down with the temperature, from R-5.6 or R-5.7 when its 75°F to about R-4.8 when the mercury drops to 25°F, although manufacturers are looking for ways to counter this problem. Like EPS, polyiso is blown with pentane, a compound with a relatively low global warming potential. Polyiso is more expensive than XPS and EPS, and is not recyclable.
R-Value: R-6.5 when manufactured, declining to R-5.7 over time (lower in cold temperatures)
Cost: Moderate
Net carbon emissions: Moderate (5 kgC02e/m2)
Toxicity: Low
Installation: Used like other foam panel insulation
---
Spray polyurethane foam
Available in two basic types—closed- and open-cell—spray polyurethane foam has some unique performance characteristics and also raises a few environmental concerns. Closed-cell foam is the denser of the two at 2 lb. per cu. ft. (vs. ½ lb. per cu. ft. for open-cell foam). Closed-cell foam also acts as a vapor retarder while open-cell foam is vapor open, a difference that becomes important in some applications. Open-cell foam uses water or carbon dioxide as the blowing agent, an environmental advantage, while blowing agents in closed-cell foam remain a sore point among green builders. While newer versions of closed-cell foam use hydroflouroolefin (HFO) blowing agents with a relatively low global warming potential, older formulations use a hydroflurocarbon (HFC) with a much higher climate impact. (Icynene has developed a medium-density, closed-cell foam that is blown with water.) While these differences are important, both open- and closed-cell foam share an ability to fill wall and ceiling cavities very effectively and are excellent air barriers. Both are expensive, closed-cell foam more so but it comes with a higher R-value. Both types are made by mixing two components onsite as they are sprayed by the installer.
R-value: R-3.5 to R-3.6 (open cell) to R-6.5 (closed cell)
Cost: High
Net carbon emissions: Moderate to very high (HFO-blown open-cell, 2.9 kgC02e/m2; HFC-blown closed-cell foam, 23.2 kgC02e/m2)
Toxicity: Stay out of the house while it's being installed. There have been reports of lingering odor and/or off-gassing that adversely affect chemically sensitive people.
Installation: Open-cell has a much higher rate of expansion and typically is allowed to over-fill cavities and be cut back when cured. Care must be taken with closed-cell not to apply in too thick a layer, which can cause a fire. Premises should be vacated while foam is applied. Odor from closed-cell foam can linger, but properly mixed and applied insulation is inert once cured.
---
Originally published on Green Building Advisor. 
Previous:
How to Choose Insulation
Next:
Fiberglass Is Still Home Builders' Number One Insulation Choice