Freezeproofing a Garage Sink
Frostproof valves and a P-trap make for a functional slop sink in this garage workshop.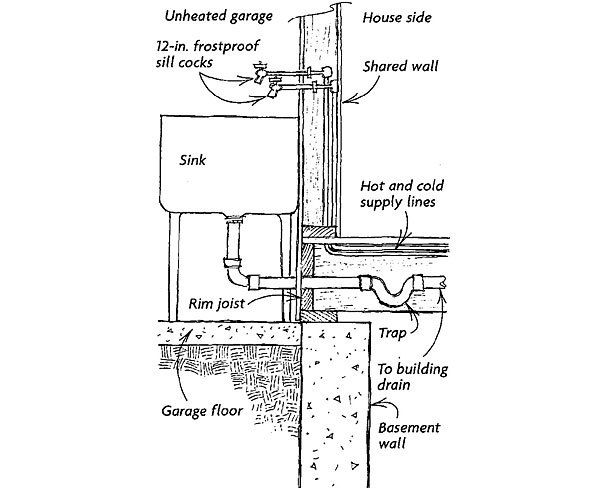 Every shop needs a slop sink, so I decided to install one in my attached garage workshop. Because I live in a cold climate and wanted to use the sink year-round, frost protection was mandatory. My solution was to locate a plastic laundry sink on the wall shared with the house and to use frostproof sill cocks for the hot and cold water supplies. These valves are normally used for outdoor faucets and are available in both 8-in. and 12-in. lengths. The supplies run up from the basement inside the shared wall, protected from the cold by the warm interior of the house and its insulation.
The tailpiece from the sink's drain takes a 90° turn by way of a 1-1/2-in. horizontal PVC drainpipe, which penetrates the rim joist before joining a P-trap in the basement. Putting the P-trap in the basement keeps its contents from freezing.
Whether it be for washing paintbrushes or just for scrubbing my dirty hands, the slop sink has been a satisfying addition to the workshop.
—Karl Juul, Glenmont, NY
Edited and illustrated by Charles Miller
From Fine Homebuilding #129