Podcast Episode 87 — A Whole-House Remodel
Buying a house, ventilation, carpeting, paint, remodeling, built-ins, garages, humidity, attics, basements, and windows.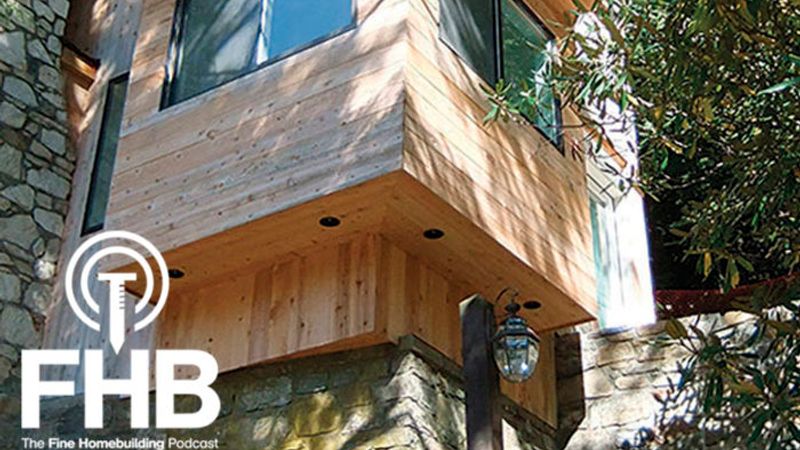 In this episode, show regulars Justin Fink, Brian Pontolilo, and Rob Yagid talk about the priorities they put on a complete home remodel of a typical 1980s dwelling. Before they get into the specifics, the guys lament the reality that what you do to improve your home seldom actually boosts your appraised home value. Except for front doors and maybe some solar energy systems. Rob and Brian then go on a bit of a rant on how hard it is to track down actual R-values and energy efficient details of homes that are for sale on the market — an issue of buyer education, says Brian.
Want to get the guys riled up when you see them at an open house? Make sure you ask vital questions like, "Does the house have good bones?" and "Don't you want this house to breathe?" and "Where are the granite countertops?"
Getting down to the particulars, the guys debate preferences. Justin says he would tackle the kitchen and baths first; he also likes new wall-to-wall carpeting. Rob first looks to improve the big surfaces, like walls and floors, painting, maybe trim. Brian likes the idea of picking a single big project that affects the way you live in the house and tackling it — maybe the kitchen, living room, master suite, or outdoor space.
Note that none of the guys are putting much emphasis on energy efficiency, assuming there are no huge problems that need to be addressed first. And everyone agrees that built-ins, done right, are sweet. Rob has some thoughts on air quality, regarding which there are some links at the bottom of this page, just scroll on down.
The guys also discuss the true payback value of installing new replacement windows. #KeepStormWindowsAlive!
As Justin mentioned, the holidays are upon us, and we hope you will take advantage of two great offers for our podcast listeners: A special 20% off discounted rate to subscribe to the Fine Homebuilding print magazine. That link goes to finehomebuilding.com/podoffer.
Also, we have another special offer for podcast listeners … use coupon code GIFT20 at the Taunton Online Store. We have tons of home construction and remodeling gift ideas over there, electronic and print, for you or for your friends and loved ones. You may even find some ideas for the people in your life who love cooking, gardening, and sewing.
But what about the special offer? The prices in the store have been marked down up to 80%. Yeah, the "up to" part of that is a little weaselly, and you'll find lots of things that are discounted by a lot less than 80%, honestly. There Ain't No Such Thing As A Free Lunch. But here's a true incentive: type in GIFT20 as a coupon code for 20% off.
Today's episode of the Fine Homebuilding podcast is brought to you by Weather Shield.
Sophisticated styling. Sleek lines. Stunning simplicity. From the sightlines to the finishes and hardware, Weather Shield has considered every element of design to achieve a true minimalistic appearance with its Contemporary Collection line of windows and doors. Developed in collaboration with architects and interior designers, this collection brings a bold and modern aesthetic to the residential market. With more than 60 years of experience and 33 patents, Weather Shield is faithfully focused on helping you create something better and more purposeful. Find out how Weather Shield can bring your next project to life by visiting weathershield.com and finding a dealer in your area.
Today's episode of the Fine Homebuilding podcast is also brought to you by Lenox Tools.
When you are in the middle of cutting, it is a hassle to change blades. That's why Lenox is excited to introduce their new line of reciprocating saw blades. Now, when you are cutting through metal with the Lazer CT, or through nail-embedded wood with the Demolition CT, you can count on them to last 10x longer than standard bi-metal reciprocating saw blades. And, with the Speed Slot Hole Saw, you get twice as much life along with a unique staircase design that lets you easily pop out plugs. So, if you' re cutting metal, demolishing, or drilling holes, you can rely on Lenox to last long after the job's done.

The show is driven by our listeners, so please subscribe and rate us on iTunes or Google Play, and if you have any questions you would like us to dig into for a future show, shoot an email our way: [email protected]. Also, be sure to follow Justin Fink, Rob Yagid, and Fine Homebuilding on Instagram — and "like" the magazine on Facebook. Note that you can watch the show above, or on YouTube at the Fine Homebuilding YouTube Channel.
The Fine Homebuilding Podcast embodies Fine Homebuilding magazine's commitment to the preservation of craftsmanship and the advancement of home performance in residential construction. The show is an informal but vigorous conversation about the techniques and principles that allow listeners to master their design and building challenges.
Check out these links on air quality. The first three are from Martin Holladay at our sister site, Green Building Advisor:
Here are a few links related to this podcast: