Installing Large Ceiling Tiles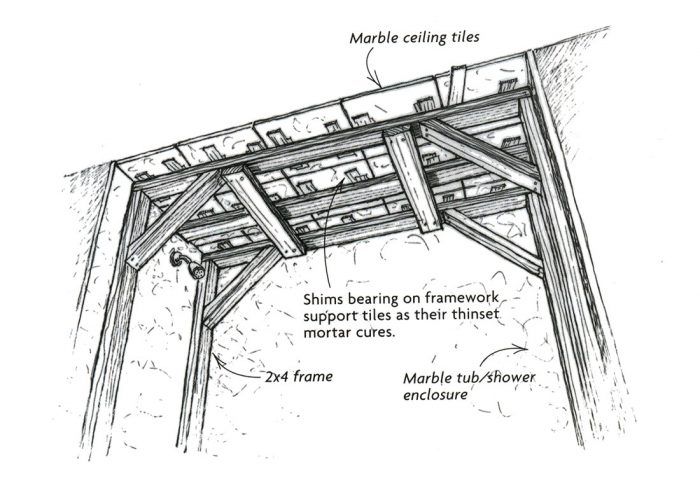 Before this job, I had never installed 12-in. sq. by 3/8-in. thick tiles over my head. The marble-slab installers had done the walls of the tub/shower surround and preferred not to do a slab on the ceiling (now I know why). They provided the tiles, and I proceeded to bed them in thinset and squeeze them to the concrete board above my head, just as I had easily done with 4×4 ceramic tiles. I had three of them in place when I turned my back and felt a tile whiz past my ear and shatter on the edge of the tub. At that point, I realized, "This technique doesn't work," and I removed the remaining two tiles from the ceiling. I went home to rethink the situation.
I called a colleague, a highly skilled tile installer to whom I actually offered the job, to see if he could fit it into his schedule. He was still too busy, but he gave me the advice I needed to get the job done. He said, "You've got to brace the tiles from below til they set."
As a result, I built the 2×4 frame shown in the drawing. It nearly reaches the ceiling, with about 1/2-in. clearance between the thickness of a tile and the top of the frame. A carpenter working with me cut about 100 shims, and we went to work piecing together the puzzle. It went this way: Trowel thinset on a tile, slide it above the frame, and shim it in place. Two days later, I removed the frame, and the tiles stayed put.
—Bill Phillips, Durham, NC
Edited and illustrated by Charles Miller
From Fine Homebuilding #141