How-To
Large-Format Tiles
Learn how to set supersized tiles, which can be more challenging to install than smaller tiles.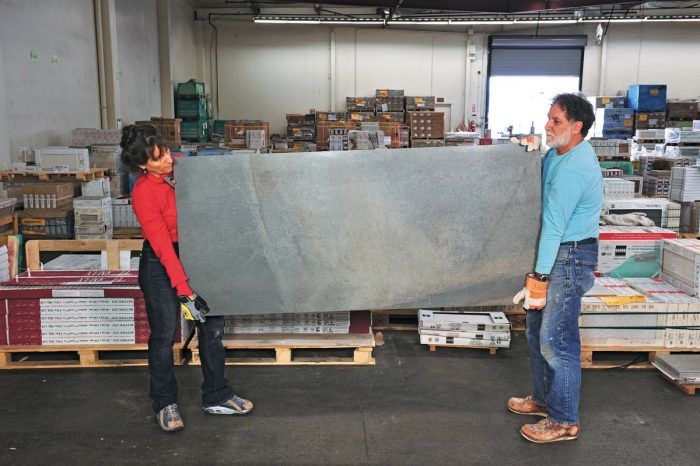 In years past, the trend was toward smaller and smaller tiles including mosaics. Recently, the move has been in the other direction—toward supersizing the size of tiles, with no real limit in sight. In general, any tile over 15 in. x 15 in. is considered a large-format tile (LF); however, wood-look plank tiles that are narrower on one side and over 15 in. on the other are also considered to be large-format tiles. For our local tile business, installing 12-in. x 24-in. tiles has become a large part of our work. And now, there are even tiles that are over 4 ft. x 8 ft. as well as ceramic and porcelain tile panels that are even larger. With all of these larger tiles, there is less grout to clean, resulting in a cleaner, more expansive look. 
Installing large-format tiles
Working with LF tiles presents some challenges that smaller tiles do not. Because tile does not bend, it's imperative that your substrate be as flat as possible. We've all experienced floors where this issue was not addressed and tripped lightly over "lippage." The American National Standards Institute (ANSI) specification for installing large-format ceramic tile recommends that the substrate have no more than 1/8 in. in 10-ft. variance, with no more than 1/16-in. variation in 24 in. With any job that requires leveling, we strongly suggest hiring a licensed professional for areas over 100 sq. ft.
Even with a properly flattened substrate, warped LF tiles can lead to lippage, which is where leveling clips come in. When you use the clips, adjacent tiles are lifted or lowered to make an even plane. You'll need to use more thinset than usual (1/16 in. to 1/8 in. more) to allow room for the clips, tile, and thinset to work together.
Spread large-format thinset with a bigger notched trowel than usual to allow for the leveling clips under the tile. Back-butter the tile and set it in the thinset bed. For the twist-type clips, insert the leveler at the corner. Back-butter and lay your next tile and, when the clip is covered (three tiles for T-shape levelers and four tiles for X-shape levelers), twist on the cap and tighten securely. For the wedge-type clip, place the clips at the corners and insert the wedge into the clip after you've laid clips for the adjacent tiles.
Use a mallet to beat the tiles in after you've tightened the clips. Periodically check that the tiles have not slipped out of alignment. Also use your mallet to tap the edges if you need to adjust the tile into alignment or to keep it within the chalk line. Continue tiling, adding clips and/or spacers as you go.
The following day, or at least 24 hours later (to allow the thinset to cure), kick out the clips or use a mallet. All clips are designed to break off cleanly when broken in the direction of the grout joint. If a clip does not break off cleanly (a rare occurrence), use your utility knife and a sharp new blade to carefully carve the clip below the surface of the tile. You may also pull gently, wriggling carefully with long-nose or other pliers to extricate it from the joint.
TRADE SECRET: Before you install 12-in. x 24-in. wood plank, or any LF tile in a staggered or brick pattern, check with the manufacturer about the amount of overlap. Most manufacturers recommend a 33% overlap rather than 50% overlap. If you choose to install with a 50% overlap, just be aware that you may experience some shadowing or lippage from tile to tile.
TRADE SECRET: Large-format (LF) tiles are any tiles over 15 in. on any side. If you consider working with this size, look for tiles that are "rectified," which means they have been mechanically processed to ensure that they are uniform in length and width. They give a "clean and lean" look with a more uniform tile size and sharp, narrow grout joints.
Back-Buttering Large-Format Tiles
Back-buttering is applying thinset to the underside of a tile to ensure complete coverage between the thinset on the substrate and the tile.
With larger tiles, you must always back-butter the underside of each tile. Tiles need to be supported by enough thinset, especially larger tiles, which are prone to warpage. Larger tiles also become unwieldy to beat and embed properly into a bed of thinset unless they are first back-buttered. In addition, back-buttering provides extra insurance against cracks in your tile.
---
Excerpted from Tiling Complete, 2nd Edition by Robin Nicholas and Michael Schweit.
Available in the Taunton Store and at Amazon.com.
Previous:
Setting Polished Stone
Next:
How To Install Wood-Look Tile Flooring