Tools & Materials
The Knock-Down Shop
A precision shop is set up in less than five minutes using collapsible tables and a salvaged panel door.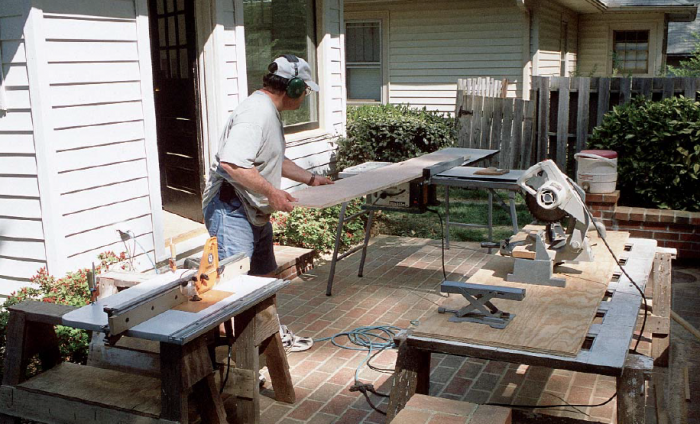 Synopsis: Using lightweight portable power tools and an assortment of work supports, it's possible to create a portable job-site workshop that can be assembled and disassembled in minutes. Here, the author describes the versatile and flexible system that he uses to produce cabinet-shop quality work.
Job-site shops are not a new idea. In the past, carpenters often would lug heavy shop tools such as radial-arm saws to the job site as soon as they could be protected from the weather. These temporary shops were — and often still are — left in place for extended periods of time. In the mid-1970s, however, the electric miter saw was introduced and combined portability with the speed and power of a radial-arm saw. The power miter added a level of precision and mobility to a carpenter's tool arsenal that was unknown before that time.
The trend toward job-site precision and portability continued with lightweight tablesaws and routers being used with high-quality guides and collapsible stands. Combined with the power miter saw and biscuit joiner, these tools allowed cabinet-shop accuracy on the job site. To develop the full potential of these job-site tools, I set them up on knockdown benches, but thoughtful placement and tool orientation also contribute to the overall success of the knockdown shop. What really makes the system work is that after spending the day doing anything from framing to custom woodworking, I can break down my shop and pack it up with an efficiency that would make a roustabout proud.
Does a knockdown shop make sense?
Why would you want to set up and tear down your job-site shop every day? Isn't it hard enough just getting the work done? Having the option of packing up shop on a daily basis has several advantages. The first is that you can set up outside. On many jobs, a large enclosed space that can accommodate working with long stock isn't available. If you have a knockdown shop, you can set it up on a driveway, a porch or any reasonably level surface. And if you're remodelling or adding to an existing house, cutting outdoors reduces indoor dust.
Another advantage of the knockdown shop is that at the end of the day, your tools can be loaded quickly into your truck or job box for added security.
Regardless of the advantages, if the knockdown shop isn't easy to set up and take down, you won't use it. Therefore, it has to be light enough to be set up quickly, but flexible enough to handle some fairly advanced work.
Good organization doesn't happen by itself. After a lot of experimentation, I settled on an efficient method of setting up quickly. I set up my workbench first and then use it to unfold the stands for my tablesaw. This method evolved amid trying to decide if the benefits of using my job-site shop would offset the setup time. I can set up my basic shop in about four minutes, and I set it up even when I have only a couple of hours of work to do. Then, at the end of the day, I pack up my shop and put my tools away in the order that I intend to pull them out the next morning.
For more photos, illustrations, and details, click the View PDF button below:
View PDF