Bend PVC Pipe without Kinks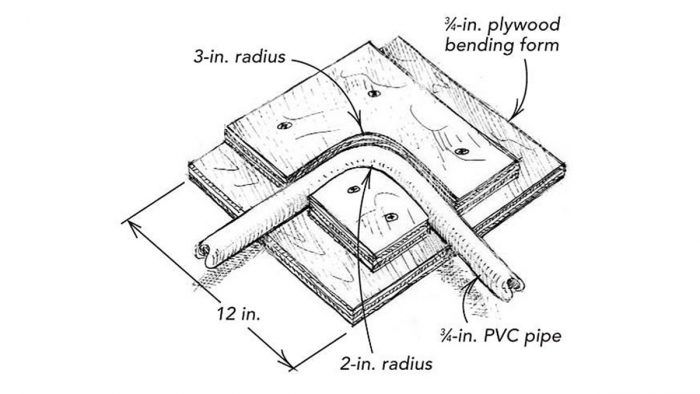 Andy Beasley's tip Bending PVC without kinks seems to work fine, but I would like to offer an alternative method. Years ago I worked in a mock-up shop, and we bent a lot of PVC pipe of all diameters using heat and a bending form.
As shown in the drawing, the form is pretty simple, and its overall size depends on the diameter of the pipe that you're bending. For the 3/4-in. pipe shown in this example, I use 3/4-in. plywood parts and a 1-ft. sq. base.
To find the minimum outside radius of the bend, figure 3 times the outside diameter (O.D.) of the pipe. In this case, 3/4-in. PVC has an O.D. of 1 in. So the outside portion of the form has a 3-in. radius. Subtract the O.D. of the pipe from the outside radius to get the inside radius. In this example, 3 in. minus 1 in. equals 2 in. for the inside radius.
Draw the two radii on plywood stock, and cut it with a bandsaw or a jigsaw. Then screw the two pieces to the base. When using larger diameter pipe, the radius of the bends will increase, and you will have to double or triple the plywood to accommodate the larger pipe.
Jig ready, fill the pipe with sand. Any type will work, from masonry to beach sand. Now all you need to do is carefully heat the pipe with a heat gun or a torch. If the pipe is small enough, you can heat it in the oven. Once the pipe becomes pliable, put on a pair of heavy, heat-resistant gloves, and work the pipe into the curved cavity in the form. The sand will keep the pipe from kinking. Once it has cooled, the pipe is ready to use.
Peter Doherty, Waterford, CT
Edited and Illustrated by Charles Miller
From Fine Homebuilding #153