How to Install Faux Stone-Veneer Siding Panels
This type of modular masonry siding is easily fastened with screws or nails, and doesn't require any adhesives or mortar.
Sponsored by Versetta Stone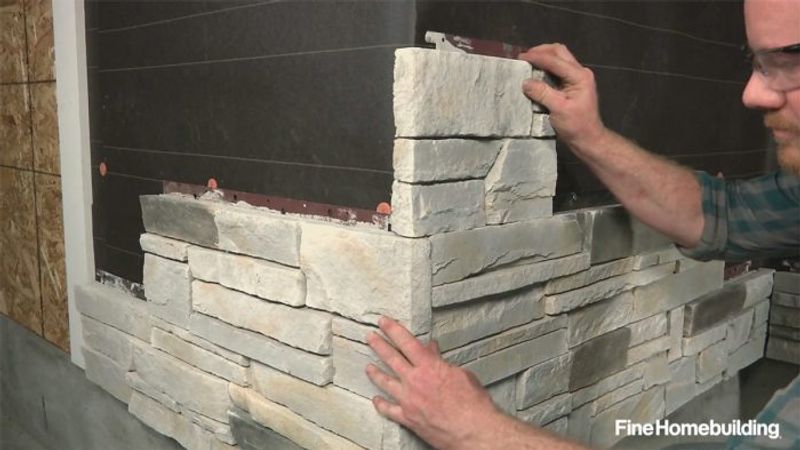 Stone-veneer siding adds the look of stone to wood-framed walls without having to use mortar or other adhesives. These products, like the Boral Versetta Stone shown here, attach with screws or nails, so they can be installed by a siding contractor rather than a mason.
We've included a summary of the installation process below, but requirements differ slightly depending on the type of wall you are installing the panels on, so be sure to refer to the manufacturers instructions for specific weatherproofing and fastening requirements. Plus, a high-quality water-resistive barrier (WRB) should precede any siding project to protect your walls from moisture.
What you will need
Corrosion-resistant fasteners (screws or nails) capable of penetrating framing by at least an inch
Drill/driver with bits to match your fasteners (or a hammer, if using nails)
Saw and/or angle grinder with a masonry blade
Respirator (cutting creates dust containing silica)
Spirit level and/or laser level
All materials and accessories for of the stone-veneer siding system
Stone-veneer siding installation process
Versetta panels come in two types: flat panels, which are used in the field of the wall, and universal corners, which provide a finished look to outside corners and a tight fit in inside corners. There's also a starter strip that's attached level at the bottom of the wall to secure the lower edges of the first course of panels. A special J-channel can be used around windows, doors, and other terminations, though it's not required.
Start by attaching the starter strip at the bottom of the wall, ensuring it's level, and lap the WRB over the strip's nail flange. Leave a 1/4-in. gap at butt joints and a 1/2-in. gap at corners. Place screws or nails in the center of the nail slots, and don't drive them tight—leave a 1/32-in. gap to allow for movement.
Install stone-veneer panels from the bottom up, with the nail flange up, staggering joints at least 8 in. from one course to the next. Flat panels have tongues and grooves on all four edges to help them lock together. Make sure the panels are level, that the tongues and grooves seat completely, and fasten with corrosion-resistant nails or screws. Drive screws through the holes in the nail flange; drive nails directly through the flange. Drive the fasteners into framing whenever possible. Full-size panels require four fasteners, at least two into framing. End fasteners must be within 3 in. of the end of the panel, and at least 1/2 in. from the edge.
Where corner panels are used, cut them in two to create a left and a right corner out of a single panel, and alternate left and right corners from one course to the next. Cut the corner pieces at random lengths of at least 8 in. long to aid in staggering joints in the field of the wall. Install corner pieces with the cut edge away from the corner. Trim the tongue off of flat panels where necessary to fit neatly against corner pieces.
Installations around windows—especially below windows—can be much more involved and may require the use of metal lath and special adhesives. There are also other pieces available beyond what's shown here—notably a wainscot cap and trim stone.
Check the manufacturer requirements for framing, sheathing, and WRBs before installation. Framing for Versetta Stone must be 16 in. on center, and sheathing must be at least 7/16-in. OSB or minimum 1/2-in. plywood. At least one layer of #15 felt is recommended for a WRB, and a second layer is advised at corners for additional protection. The WRB should lap over the nail flange of the starter strip, and each layer should extend at least 16 in. beyond corners in both directions. This product has an integral rainscreen gap to provide a capillary break between the siding and WRB and promote drying. If attaching with screws, choose ones that are threaded all the way up to the head so they grab tight even when they don't hit framing.
Previous:
Tips for Installing Stone Veneer
Next:
Essential Details for Stucco and Masonry Siding