A story-pole approach to shingling a roof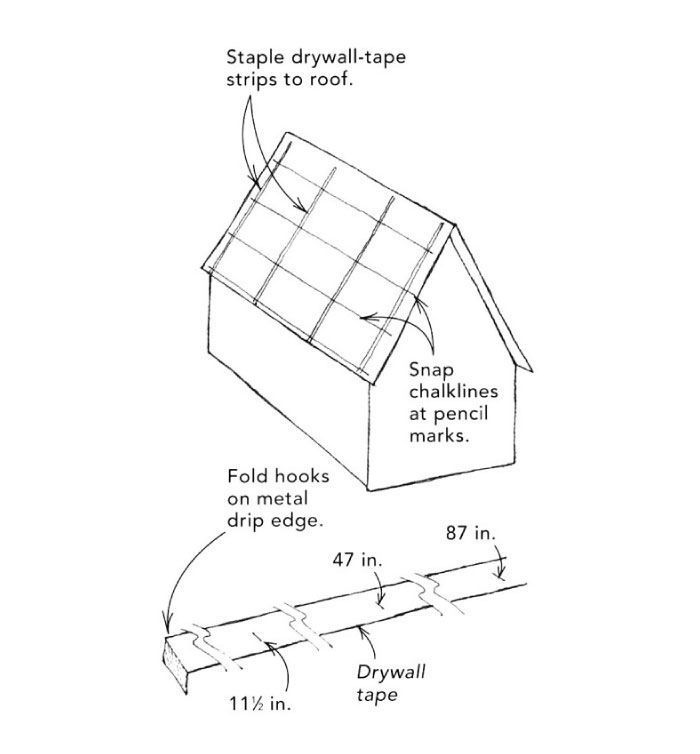 Although roofing isn't one of my favorite tasks, I appreciate a straight, well-installed job. But my eyes aren't what they used to be. These days, it is harder and harder to see the pencil marks for the alignment chalklines on a dark, tar-paper background. To make it easy for me to see the marks for the chalklines, I put them on drywall tape.
As shown in the drawing, I make marks on the drywall tape indicating the top edges of shingle courses. I put them at 40-in. intervals for shingles with 5-in. exposure so that I can check the installation every eight courses. In the example shown, the 11-1/2 in. mark allows for the starter and first course of 12-in.-wide shingles to extend 1/2 in. past the metal drip edge.
The subsequent marks on the tape refer to the exposure of the shingles plus the 12-in. width of the overlapping shingles. For example, the top of the second shingle course is 17 in. (5 in. + 12 in.) up from the drip edge. For any given course above, the top of the shingle is 12 in. higher: 17 in., 22 in., 27 in., 32 in., 37 in., 42 in., 47 in., and so forth. I unroll strips of tape on the ground and mark them on the ground all at the same time. That step makes it easier to be accurate and lets me avoid the step of pulling a tape on a shingle to get a reference point. A fold at the end of each piece of tape hooks on the metal drip edge.
I staple these tape strips atop the tar paper at 12-ft. to 15-ft. intervals. Then I snap chalklines without having to hunt around for a hard-to-see pencil mark or snaking my tape down to the drip edge, hoping it won't pull off as I get to the top of the roof.
Bob Bulick, via email, None
Edited and Illustrated by Charles Miller
From Fine Homebuilding #162