Tools & Materials
Space-Saving Trim Square
The 4.5-inch Milwaukee trim square saves room without sacrificing utility.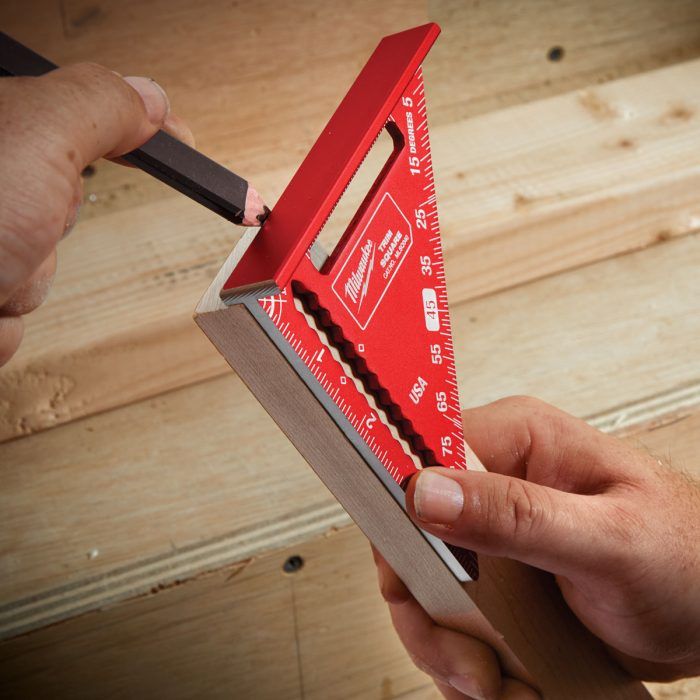 The 7-in. rafter square is common on job sites, but for a trim carpenter, it's often overkill. The Milwaukee 4-1⁄2-in. trim square (model MLSQ040) was made for the carpenter looking to save some space on the tool belt without sacrificing utility. It's about one-third smaller than a standard Speed Square, so it fits in my back pocket without falling out. Despite its smaller dimensions, it handles most of the carpentry work I do, and I use it more than a standard-sized square. Though it's small, you can use it with 10-in. material by moving the square over to the other side of the stock to finish your line. 
I'm a huge fan of the highly visible contrasting etched markings, and the dual-reference heel is great for marking thin stock and reveals where trim elements meet. One side of the heel has a 1⁄4-in. lip and the other side has a 3⁄8-in. lip. The 1⁄8-in. scribe notches also come in handy, and scribing is easier than with a 7-in. square because you aren't fighting friction as much. The Milwaukee square is so compact and useful it goes everywhere with me; it's also bright red, so it's not often I misplace it or leave it behind. At $15 , it's one of the best purchases I've made for my tool kit.
—J.R.
Photo: courtesy of the manufacturer
From Fine Homebuilding #314
---
RELATED STORIES