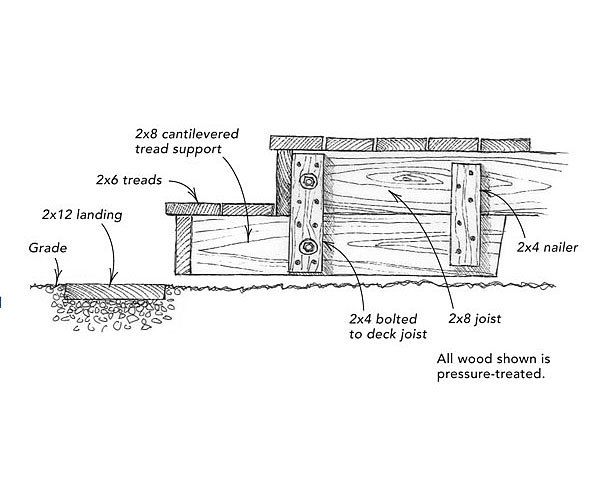 Now that it has been in service for 14 years, I think it's safe to say the cantilevered step from my deck to the yard is a workable idea. I came up with this method because I didn't want to bother with any more concrete work or cutting stringers from 2x12s.
As shown in the drawing, I hung cantilevered treads from adjacent deck joists by way of short pieces of 2×4. The connections closest to the treads are a combination of deck screws and 1/2-in. machine bolts because this is where the most loading occurs when you step on the tread. The far end of the 2×8 tread support acts like a lever, pressing upward against the bottom of the deck joist. For this reason, the inboard connection doesn't need the extra shear strength of the machine bolts.
This method worked so well that I used it on the other end of the deck where the sloping grade required six risers. I just stacked one 2×8 below the next, in the same structural assembly shown here.
—Dan Lebeau, Berwyn, IL
Edited and illustrated by Charles Miller
From Fine Homebuilding #164