Sloping a Deck: Is This Necessary?
Mike Guertin explains which areas of a deck you need to pay attention to in order to deal with drainage.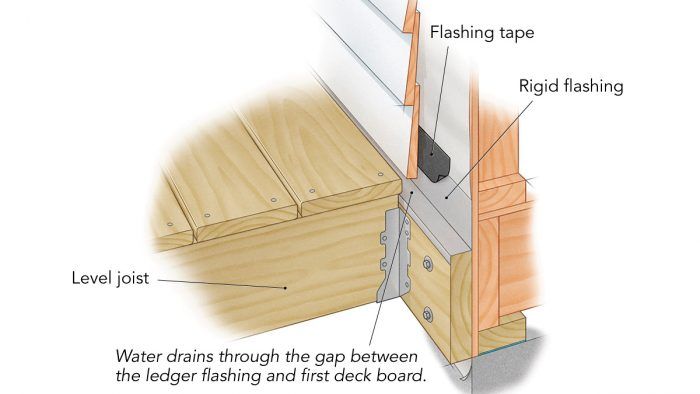 I'm having a deck built and the contractor recommends sloping the deck by several inches. He said this will help water flow away from the house. Is this necessary? I'd prefer the deck to be nice and level.
—Susan Kinney, via email
Editorial advisor Mike Guertin replies: If you were laying a stone patio or pouring a concrete slab against the house, then yes, those would need to be sloped so that rainwater can drain away. Keeping excess water away from your home helps keep basements dry and protects foundations against damage from freeze-thaw cycles.
Some contractors follow this same sloped-draining logic when building decks, but it's not necessary. Decks are usually built with wood or synthetic boards that have spaces of 1/4 in. to 3/16 in. between them, allowing rainwater to drain through the nearest gap. (I do always recommend that the soil beneath the deck be graded to slope away from the house before the deck is built.)
When a deck is built level, the one drainage area you need to pay attention to is where the first deck board runs along the house. If the board is pushed tight up against the flashing, there is a risk that water could be trapped, which could potentially cause wood deck boards to rot in that area. If the deck builder leaves a gap between the board and the flashing, the water will drain harmlessly through.
From Fine Homebuilding #314
---
RELATED STORIES
Previous:
Deck Elevation and Detail Drawings
Next:
How it Works: Deck Loads