How-To
The No-Mold Finished Basement
Carpenter Andy Engel demonstrates a reliable way to make a basement comfortable and dry by insulating from the inside using rigid foam.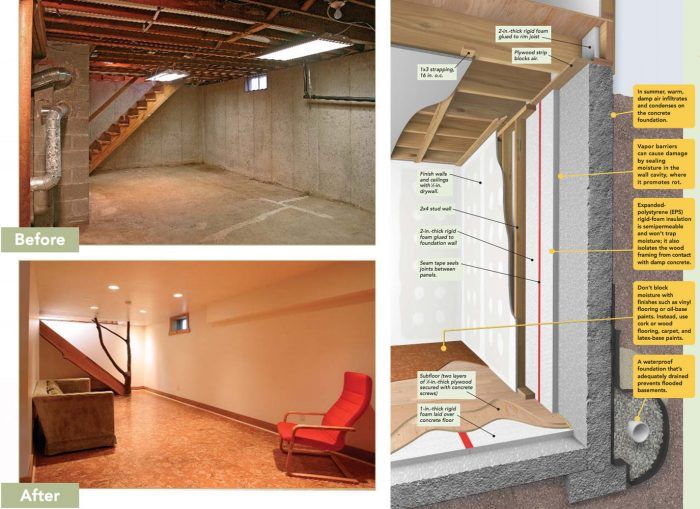 Synopsis: Plastic vapor barriers and fiberglass insulation are not the best choices for a finished basement because they can trap moisture and promote rot. This article features a basement where rigid-foam insulation sealed with tape and two layers of plywood on the floor create a comfortable space. A sidebar calls attention to the importance of fire safety and air quality when finishing basements.
---
Finished-basement projects usually begin with visions of a game room for the kids or of a secluded spot for Dad to watch Sunday football games with his cronies. Just about as frequently, these projects end badly with black spots of mold, crumbling drywall, and a smell reminiscent of a dungeon. What goes wrong? In most cases, water becomes trapped behind a wood wall or floor and nurtures a bloom of rot.
However, it probably isn't a flood that causes the problem. Yes, bulk water, the kind that flows across the floor, needs to be eliminated before an attempt is made to finish a basement. (Some common measures include exterior waterproofing, functioning gutters, and/or an internal drain system.) But even if your basement looks dry, you easily can have problems when you enclose the concrete with a framed wall. The real villain here is water vapor, the invisible moisture that keeps concrete damp and makes cold-water pipes drip with condensation in the summer. This water is always present. To reduce mold growth, water's contact with cellulose (paper, wood, etc.) has to be limited, and the water has to be allowed to escape.
Through research published by Building Science Corporation, I've found that rigid-foam insulation both thermally protects the basement and breaks the contact between framing and concrete. To avoid trapping moisture, I never install a vapor barrier. Instead, I use materials and finishes that allow moisture to diffuse. You can get rid of this diffused water by installing a dehumidifier or by extending the air-conditioning duct work into the basement. I'm no expert in this area, so let an HVAC contractor figure out the specifics.
Isolate and insulate the concrete
I use 2-in.-thick expanded-polystyrene foam (EPS, or styrofoam) on the walls and 1-in.-thick EPS below the plywood subfloor. This rigid-foam insulation is sufficient to make a noticeable temperature difference in the basement without crowding in the walls or the ceiling height. EPS is cheap, effective, and vapor permeable. Believe it or not, it also has the compressive strength to support a two-layer plywood subfloor without the use of sleepers.
After insulating the rim joist, I cover the floor with a layer of 1-in.-thick EPS. On top of this, I lay the subfloor, then build a regular stud wall against the foam on the walls.
Keeping wood from contacting concrete is critical. Fail here, and you're inviting water in through capillary action. You could use pressure-treated plywood and framing lumber, but I think that's false security and an unnecessary expense. If you've got enough moisture in the wall or the floor to cause rot, then you've also got the right conditions for mold growth, something that pressure-treated lumber won't prevent.
More about insulating with rigid foam:
Choosing the Right Thickness of Exterior Foam – Rigid foam must be thick enough to prevent condensation on sheathing.
Insulate Your Basement – This 3-part video series covers water management, air-sealing, and insulating with rigid foam.
Six Proven Ways to Build Energy-Smart Walls – Whether you build new homes or remodel, these alternative framing techniques will allow you to reach R-40 or better.
Energy-Smart Details – Get a better understanding of what makes high-performance homes work.
For more photos, illustrations, and details, click the View PDF button below:
View PDF