Sloping and Placing Gutters
Follow these installation tips for gutter drainage you can count on.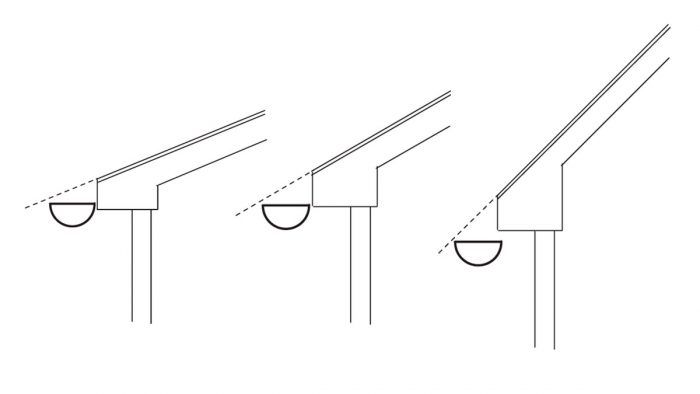 Ideally, gutters should slope down toward downspouts 1 in. per 16 ft., but this is not always possible. For starters, this may not look good: Next to a level fascia board, the steeper the slope of the gutter, the more it looks out of whack. As long as there is a slight pitch—say, 1⁄2 in. in 20 ft.—with no low spots en route to the downspout, a gutter will drain. If a house settles so that its roof edge or trim—and its attached gutters—slope away from downspouts, either install new gutters with downspouts properly located or reattach gutters so they slope toward existing downspouts.
Place the front lip of the gutters below the roof plane, low enough so the sliding snow won't tear them off yet high enough so the rain runoff won't overshoot them. The distance below the projected roof plane varies with pitch: For a gently sloped 5-in-12 pitch, place the front lip of the gutter 3⁄4 in. below the projected roof plane; for a steeper 7-in-12 pitch, 1⁄2 in. below the plane; and for a 12-in-12 pitch, 1⁄4 in. below the plane. The front lip of a gutter should always be about 1 in. lower than the back. That way, if the gutter overflows, water will spill over the front lip rather than soaking the fascia and siding behind.
Gutter Lip and Roof Pitch
Previous:
Install Your Own Seamless Gutters
Next:
Rain Diverter Protects an Uncovered Exterior Entryway