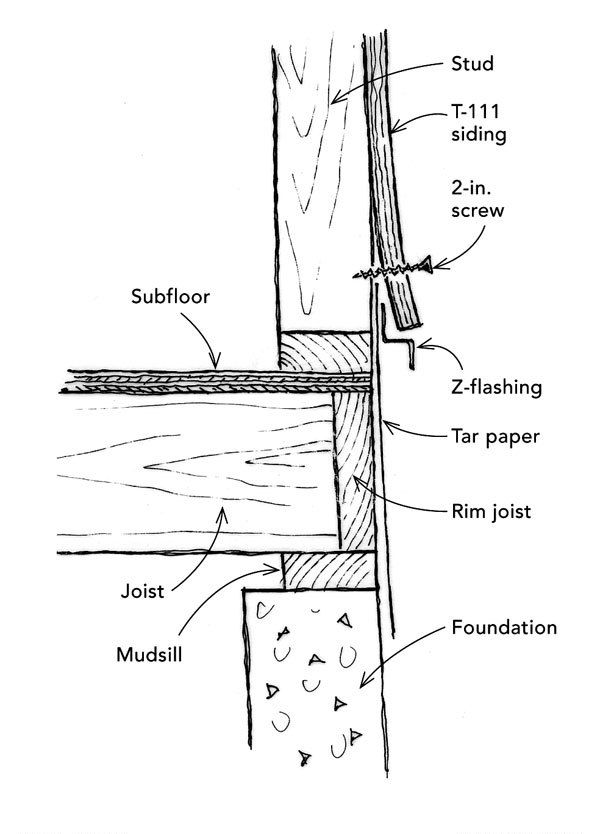 Living in North America's northernmost rain forest has forced me to become good at repairing rotten rim joists. One part of the job that always gave me a hard time was installing Z-flashing. Many houses in Juneau were sided with 4-ft. by 9-ft. sheets of T-111 plywood. After cutting off the bottom of the siding to expose the rotten rim for repair, I was left with the job of either replacing the entire sheet of siding (if homeowners insurance was paying) or just replacing the bottom foot or so (if the homeowner was paying).
If the latter was the case, I first had to slide building wrap (usually #15 tar paper) an inch or two up behind the existing siding, then slide the top flange of the Z-flashing up between the building wrap and the existing siding. Oftentimes, the siding seemed welded to the bottom plate or subsheathing, making this task at least a two-person—or more—operation. This job almost never went smoothly. Add the fact that this work usually took place in the drip line of the eave (did I mention I live in a rain forest?), and tempers could become short.
After more years than I'd like to admit doing this chore the old way, I finally figured out that 2-in. screws and a screw gun can eliminate two workers and a lot of swearing. As shown in the drawing, I now pry the existing siding away from the bottom plate or subsheathing a half-inch or so, insert a screw a couple of inches up from the bottom of the cut siding, start it into the stud, and stop. I repeat this procedure down the length of the wall. I now have a beautiful, uniform gap to slip the building wrap and then the flashing into. Once the flashing is in place, I back out the screw closest to the center of the length of flashing, and the siding usually snaps back, pinching the flashing in place. I then can finish up by putting a nail in the screw hole, slipping in the new siding, and nailing it off.
Steve Hamilton, Douglas, AK