Kimberley Robles, Decorative Concrete
In this interview, Kimberley talks about the importance of proper training, current concrete trends in the Bay Area, and the history of racist housing policy in San Francisco.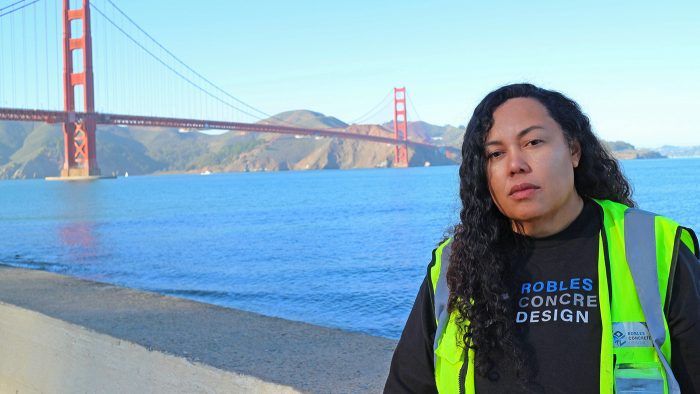 After years working in various trades, Kimberley Robles found her niche working in the world of decorative concrete, in both commercial and residential settings. Based out of the Bay Area of California, Kimberley runs her own company, Robles Concrete Design. You can follow her work on Instagram @roblesconcretedesign.
LMH: How would you describe what you do and how is it different from other ways of working with concrete?
KR: I am a specialty contractor working with decorative concrete, which means I come in after the concrete has already been placed and finish it up with endless possibilities of how it could look. My main focus is polished concrete, but I do toppings as well, both residential and commercial. The customer gives me an idea of what they want, and now that I have a portfolio, I can also direct them to my own work to get an idea of what they are looking for. I work in San Francisco and people are really into modern aesthetics but not a lot of people are doing residential polished concrete, which works out great for me and my business.
LMH: Why are people in SF so into the modern aesthetic and how does polished concrete fit into that?
KR: People like sustainable floors and the concrete is already there. Why put flooring over it when you already have that floor and concrete is a nice look? It's not going to go out of style, and if you do decide to change, then you could just put some flooring over it down the road.
It's a material that's going to last for the life of your home, but you do have to upkeep it. A misconception that people have is that once they finish the concrete, they don't have to do anything. But if you spill a glass of wine or soda, you have to clean it up or the acidity will eat the surface. So my work also includes educating my customers on the upkeep required for the kind of look they are going for.
LMH: What are the methods of the materials that you use that really make your work stand out?
People think they can do this work just watching YouTube, and I say, good luck with that. There's a method to it. For carpenters who are sanding wood, you go from a rough sandpaper to a fine sandpaper. With concrete, it's a similar concept except with diamonds on your floor. You start with a rough grit, and the higher you go, the more reflective your floor is. If your floor is not a flat floor, and most floors aren't, you won't want to go all the way up to the finest grit. No floor is polished until it gets to 800 grit and above. The floor will walk off if it's not a full polish. It's a scientific process and requires patience. The first step is putting in your scratch pattern and the next step is getting them out to refine the floor.
LMH: I know your website mentioned that you started off doing an apprenticeship with a union. Tell me about how you got where you are now.
KR: A carpenter friend of mine back in the day asked me if I wanted to come help him. He paid me $10 an hour, which at the time was a lot of money. After working with him for a couple of weeks and getting a good paycheck, I wondered how I could do this more. Nobody in family did construction or anything. I went to the carpenter's union and signed up. From there, I switched around to different trades because they wanted me to go to apprenticeship school, but I was a hard-headed kid and didn't want to go to school. I ended up doing a lot of union jobs around San Francisco. I've worked on places like the Moscone Center and the Fillmore Center. At one point, an agency said there was an opening in cement masonry working on sidewalks. And that's how I got into what I'm doing now. I got into the hardest trade.
LMH: You would describe concrete as the hardest trade?
KR: It's one of the hardest trades because you are on your knees all the time. And there's an art to it, especially in residential. Everyone thinks they know how to do it until they try it. If you look at some floors, you'll see there are some horrible floors from cement masons who didn't get the right training.
But backing up to my experience, I worked for some of the biggest companies in the city, but I was always interested in decorative concrete. I would see work from top guys in the industry and wonder how they did the decorative work. I was reading Concrete Decor Magazine, which mentioned taking a free stamping class. So, I started taking every kind of class to learn. At first, I just rented equipment from Home Depot which wasn't that good. One day I saw an ad for a concrete polishing class, but it was an expensive class for only two days. I ended up getting a job as a territory manager for the same company that the ad was for. After my boss wouldn't give me a raise, I decided I didn't want to put up with that anymore and decided it was time to go out on my own. So I quit, went to Malta for vacation, came back, and started my own company.
LMH: So now you have your own business. What is that like?
KR: Yes. What I find to be the most difficult part of being a contractor is that we wear every hat. And in construction, a lot of people don't know the office side, but that's where you have to be willing to grow and to let someone else take some responsibility. I recently had a health scare, which made me realize you can't be stressed out. You have to slow down. So, I have three to four people in the field and did just finally hire an admin. If you want to grow your company, you have to build the team, otherwise you'll always be a one-man show.
Right now, I am taking the time to learn—I just graduated from the project management program at Turner Construction. I've been in business for going on five years with no certifications, but with the possibility of a recession coming, I'm taking the time to take advantage of those resources. San Francisco has a lot of construction going on, so if you're not certified, you can't get on those bigger jobs. But if you're a small company and you try to jump in with the big guys, you could lose your whole company because you don't know everything. It's good that I've been building my reputation up so that when I do go in on bigger projects, it will be easier for me.
I'm also in the American Society of Concrete Contractors (ASCC) and I'm part of the Concrete Polishing Council. Concrete polishing is getting bigger and as we grow, we're trying to make architects and other people aware of what it takes to really polish a floor. It's a growing industry and there is a lot of potential in this trade.
LMH: Tell me about your experience being a woman and a woman of color in the trades.
KR: I started a long time ago when there weren't that many women and concrete can be pretty rough.
Back in the day a woman I knew went to lunch and when she came back, the men had taken all her tools and spray painted them, and acted like they weren't hers. It was different being a woman back in the early '90s than it is now. There's more awareness now, and companies are trying to diversify. Things people used to do before are not going to fly anymore. If you're in the right work environment, women can do well in construction. It's an untapped market. You don't have to go to college, but you can make a lot of money. Now I see more people across the country starting women-in-construction programs or teaching younger girls. Even if you're not going to go into the trades, it's good to know how to do some of these things.
LMH: You mentioned earlier the need for patience when working with concrete. What other skills would you say people need to thrive doing this kind of work?
KR: You have to be willing to learn, and you have to pay attention, specifically to safety. I see a lot of people from social media going out there and grinding concrete without a mask. You can't just go out and do it—you should be an apprentice. People take two-day seminars and think they can do it. The main problem I see with this industry is that we have a need for more apprenticeship. ASCC does have a certificate you can get after you complete hours with your employer.
I think the most important thing in this trade is education. Always try to keep yourself educated. I go to World of Concrete every year and there are always new products or something else to see. There are demonstrations and classes you can take. If I were trying to learn, that's one of the places I would go.
You can also learn from manufacturers. Companies that sell equipment have classes on how to use their particular machines. There is always some industry training somewhere, you just have to search for it.
LMH: Since you've been doing concrete for a long time, have you noticed any trends or any significant changes in the concrete industry since you first started?
KR: Working in the Bay Area, the matte finish is what's popular. Nobody wants super shiny anymore—they want it to look natural, clean, and modern. On the East Coast, I think people do epoxy, but here, that's too shiny and blingy. I do a lot of [Joseph] Eichler homes, who was a real estate developer and built a lot of modern tract homes in the midcentury. He did concrete floors that were heated underneath. I do a lot of refinishing over that old concrete. He actually quit the [National Association of Home Builders] because they were mad that he was selling homes to Black people.
If you research the history of San Francisco, it was harsh. The Fillmore neighborhood was a thriving jazz area in San Francisco and they came in and kicked everybody out as part of "urban renewal" efforts. My family actually lived there and people would come and say that their house was dilapidated, but that they wouldn't receive a loan in order to fix it. And then they would buy them out for pennies on the dollar of what it was worth. My aunt and uncle used to own half a city block that is now worth a lot of money. A lot of families, particularly families of color, were forced to leave in order to make it the posh and expensive neighborhood it has become.
---
RELATED STORIES