Tools & Materials
Sanding Stands Add Versatility to Belt Sanders
Sanding stand attachments turn a mobile tool into a benchtop workstation
It's possible to clamp a belt sander upside down and freehand your finish carpentry tweaks, but you'll probably get better results if your sander is firmly and reliably attached using a sanding stand. This model from Bosch allows the sander to be mounted in either a horizontal or vertical position and still retain a dust collection port. DeWalt also offers a sanding stand that attaches to their sanding frame. It's important to note, however, that this attachment blocks the dust collection port and you can't practically attach a vacumn hose to that belt sander while it's attached to the sanding stand apparatus.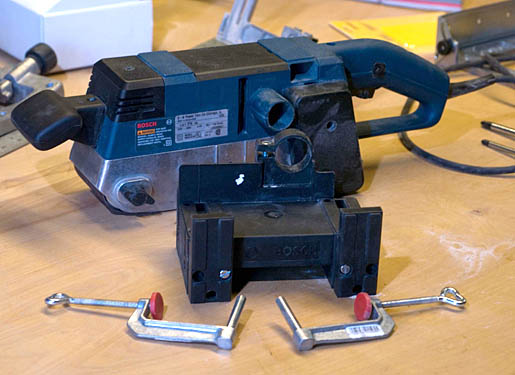 Some assembly is required. There's a lot less head-scratching in setting up this stand assembly than in figuring out how to mount the sander securely while keeping the clamps out of the way. On this Bosch model, a mounting block mates with the sander body, and then accepts two C-clamps. The bench I mounted the sander to didn't have quite enough overhang to securely mount the C-clamps so I added a strip of 3/4-in. plywood with a second set of bar clamps away from the sander to extend the surface.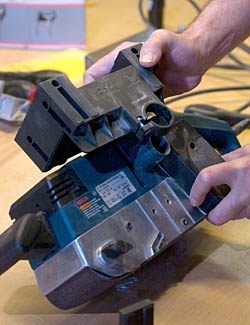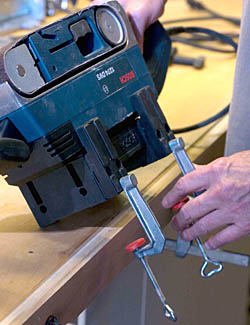 Perfect for back-beveling. With the sander securely mounted and connected to the vacuum adapter (the long black tube to the left in the photos below), dedicated hardware (the knob above the vacuum adapter) makes quick work of attaching the fence. The slotted arm (whose knob is next to my right thumb) allows fence adjustment relative to the sanding belt and the curved slots at each end of the fence provide bevel settings.  
A classic application for this kind of bevel is adjusting mitered door or window trim. If the wall around the opening isn't flat, fastening can fold the casing backward, creating a gap. By undercutting the trim piece and adding a back-bevel, the joint closes to a tighter fit.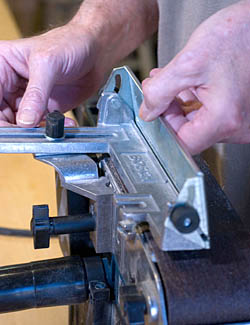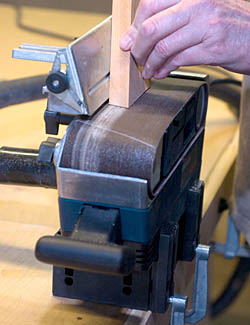 Adjust the sander to your work. Sanding stands can also turn belt sanders 90-degrees to accomplish the same sort of bevel. The attached fence makes a huge difference in controlling stock removal as fences are a real help for accurately sneaking up to a line or tuning up a beveled edge. Changing the angle of attack from horizontal to vertical can sometimes allow a firmer grip or a better look at your work.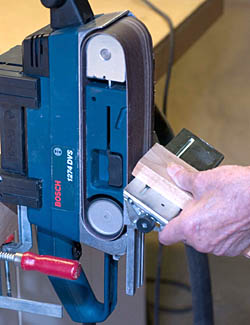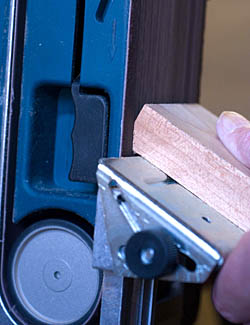 Belt Sanders Get Better, Michael Standish's review of eight 3-in. by 21-in. models from the October/November 2007 issue of Fine Homebuilding, can help you decide which model is best for you.
And to learn how belt sanders can smooth out uneven surfaces without gouging results, read Sanding Frames for Belt Sanders. 
Photos: Jean Paul Vellotti