Acid Test
Great moments in building history: We're supposed to dilute it, but we use it straight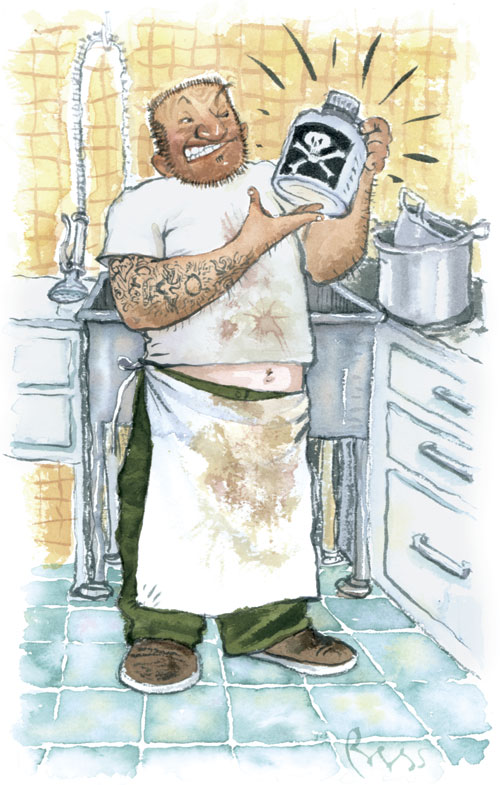 The owner of a plumbing company asked if my remodeling company was looking for some work. The job involved the replacement of 35 lin. ft. of concrete slab and tile, 2 ft. wide, in a local restaurant kitchen. The plumber had run a camera down the sewer and found that a 2-in. slot had eroded in the bottom of the sewer pipe for the length of that 35-ft. section. Consequently, gray water was draining into the ground. I asked the obvious: "How did this happen? Cast iron should be good for 100 years."
He said, "No one is sure, but we think it is because of the chemicals used to degrease the traps. Time is of the utmost importance because for every day they are closed, the restaurant loses $4,000." I told him that we could do the job whenever he wanted it done.
On the day our work began, my crew and I entered a kitchen with dirt shoveled 3 ft. high everywhere. One of the kitchen workers wore a location-monitoring ankle bracelet—one of those anklets for people who are in trouble with the law. Dirt was near the freezer, dirt was near the counters, dirt was everywhere. The plumber showed me a section of pipe with the bottom gone, just as the camera had said. The pipe looked as if it had been consumed by a cast-iron-eating termite; the edges were neatly beveled.
After the dirt was shoveled back into the trench and compacted, the floors were swept, the rebar was drilled into the existing slab, and we were ready to pour. The guy with the ankle bracelet was a cook at the restaurant, and due to his legal situation, he was obliged to remain there. Consequently, the restaurant manager said we could use him to shuttle wheelbarrows of concrete into the building when we poured.
Early in the pour, after I asked one of our laborers to use a hammer to beat on the wheelbarrows to remove the old, hardened concrete from them, our friend the cook piped up and said, "What you guys need is some of that acid we use for degreasing pans. We're supposed to dilute it 10:1, but we use it straight." I replied, "And you pour it down the drain when you're finished, right?" Mystery solved.
—Andy Jackson, Belgrade, MT
Drawing by: Jackie Rogers