Tool Geek Love
Great moments in building history: Do you promise to love and cherish this man and all his tools?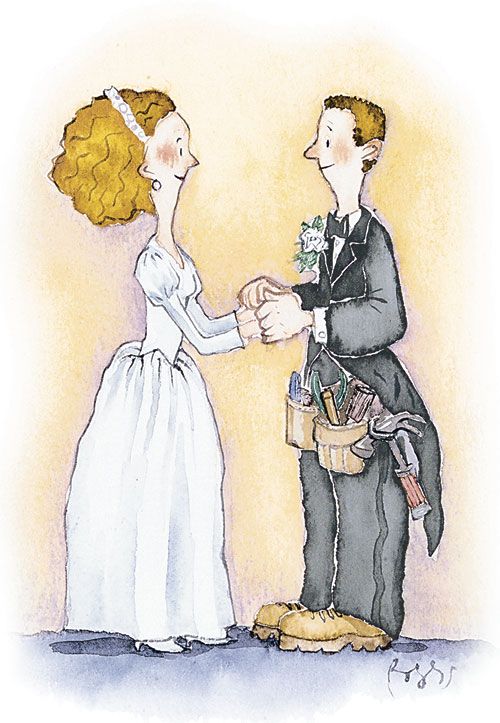 The vast Chicago studio where Kenny and his roommate lived was separated into two sections. The first space was the living area, a cozy room that served as living room, kitchen, bedroom and bathroom.
The studio's only interior doorway led to another room that was nearly three-fourths of the entire apartment. In here was the true living room, the workspace. In a joint venture with his roommate, Kenny had invested a good deal of time and money into making sure that for every job, they had the right tool. A workbench bigger than the entire living area held various hand tools and small power tools. Larger tools—a drill press, bandsaw and router table—filled the rest of the room.
I was impressed not only with the array and display of tools, but also with the men's willingness to forgo such necessities as a private bath to give the tools of their trade their proper place in their home. With rents being high, the men faced choosing between shop space or living space. They opted for shop space and made do with the rest.
A few years after our first meeting, I persuaded Kenny to move to Texas to live with me in my tiny one-bedroom house. Partly because his roommate was unwilling to part with any piece of their shop, Kenny sold his half of the tools and hopped on the next train.
The couple of boxes and bags he brought with him contained a few simple, sentimental hand tools: some screwdrivers—including one that had previously belonged to his granddad—a handsaw, a hammer, a jack plane, a block plane. Kenny grieved as he unpacked and laid out the tools before him. I understood neither the magnitude of Kenny's loss nor how to console him.
Having left Chicago as the first winter winds began to whip through the city, Kenny was warmed by the bright sunshine of a Texas fall. To him, it felt like summer, and he announced that the yard and back porch would be his shop. With the few tools on his belt, Kenny first built a workbench. Next, he planned to build a small shed in which to house his tools. Happily, Kenny went to work on small projects, using ancient longleaf pine scraps he had salvaged from alleyways and abandoned buildings. He reveled in his ability to create beautiful tables and shelves with nary a power tool in sight.
A few months later, my milk-crate shelving and store-bought tables were replaced with Kenny's beautiful, handmade objects. A few months later, too, Kenny realized he had to re-enter the work force. He quickly found work with a local renovator. This new setup required Kenny to invest in the most basic of power tools. The rest he would make do without, largely because his new boss was willing to share tools.
Dictated partly by our lack of funds and partly by Kenny's sense of finding the best tool for the money, each purchase was preceded by the scouring of every tool catalog Kenny could find. Every day, a new catalog arrived in the mail, and every evening, Kenny was at the kitchen table, head down, comparing, analyzing, studying and comparing again. At bedtime, he read catalogs in bed. He even built a special bedside rack for his tool tomes. As though hoping to retrieve the necessary information through osmosis, Kenny stacked the overflow from the magazine rack in the corner near his head.
As our income grew, so did Kenny's desire for more tools. With increased desire came more purchases, and with more purchases came diminishing space, both in the shed and in our house. Necessity demanded more room, so Kenny built a shop in the backyard. The shop meant there was once again room for the big guns: the table saw, the drill press and other tools he'd left behind.
With an adequately equipped shop, Kenny felt the pull toward self-employment. He took on some small jobs. This meant the need for more tools and, once again, an extensive tool search. By this time, we had access to the Internet. Although Kenny originally balked at the idea, he quickly discovered the Web to be a valuable resource. I imagined the Web would limit the need for all the catalogs. Instead, it had the opposite effect: Kenny now had access to receive catalogs from all over the world.
My dad is a woodworker. In his house, tools that long ago ceased to function adorn the walls. Hindsight has made me realize that I should have recognized the signs of the insatiable love Kenny has for his tools. Although the turn of every catalog page introduces Kenny to yet another desire, his love is by no means fickle. For each new tool purchased, there is no love lost on a tool procured long ago.
Had I known then what I know now, I would have written different marriage vows: Do you, Bernadette, promise to love and cherish Kenny and all his tools? Do you understand the difference between a cheap tool and a tool that will be around for generations to come? Do you promise not to throw away any catalog until you have first checked with Kenny? Do you accept that your tiny house may one day be overrun by back issues of woodworking magazines that cannot ever be recycled? And do you, Bernadette, promise to accept this tool adoration as you accept Kenny himself?
I do.
—Bernadette Noll, Austin, Texas
Drawing by: Jackie Rogers