It's Just Not Quality
Great moments in building history: Sometimes it's best to just stick to the background work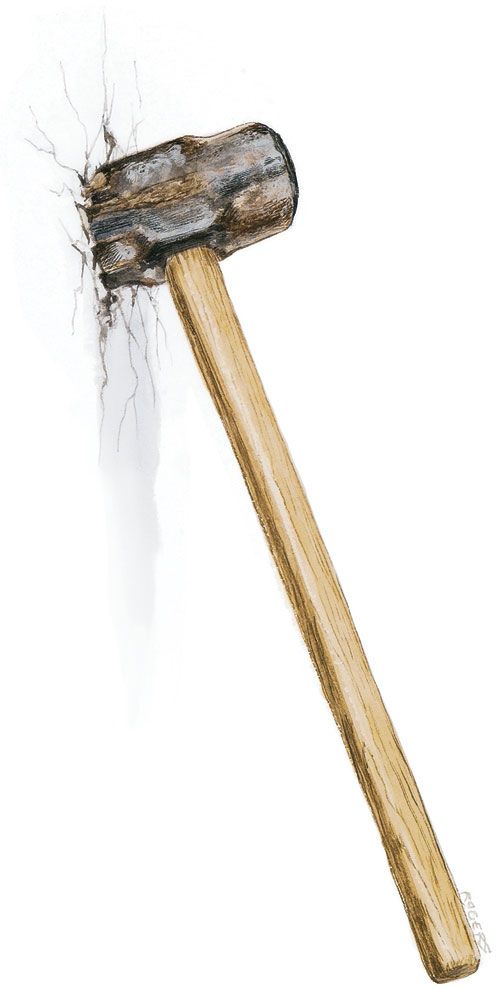 It all started when we moved into our first house, a small place in an iffy area of southern Los Angeles. I was sitting in our little dinette off the kitchen reading the paper after dinner when Ursula struck.
"Honey, I want to take out this wall between the kitchen and the dinette. It just doesn't look right to me."
I glanced up from my paper to see that she was talking about a small stub wall that extended 6 in. or so into the area between the two rooms.
"Yes, dear," I said. "It would be better if the wall weren't there. The next house we buy we'll be more careful and make sure we like the way the kitchen and dining areas are put together." And I thought that was the end of the conversation.
I was raised by parents who didn't do work on their own house. If anything was to be improved, they called someone. Real people just didn't go messing around with what the house looked like. A house and its walls were inviolate, untouchable.
Ursula left the room. I heard the side door and then the garage door open. It was dark out; there was no light in the garage. She stayed out there quite a while. I looked up when I heard her returning to the kitchen. She was carrying a sledgehammer.
Without comment, she took the hammer in both hands and raised it above her head as she approached me. At this point I realized that I had not been paying enough attention to what was going on. I knew I had missed something really important.
She stopped, holding the hammer up high. "You don't understand, dear," she said. "I don't want that wall there." She brought the hammer down and across as hard as she could swing. It crashed into the wall about shoulder height, sending plaster chips all over the room, all over me and all over my paper. She hit the wall again just to make the point. The hammer went through the plaster.
She just left the hammer hanging there and turned to go into the kitchen. Over her shoulder, she purred at me, "Take it out. I don't want it there." I was stunned. I sat there looking at the hammer hanging in the wall. This sweet woman, mother of my children, lover in my bed, had flipped out. "I can't just take the wall out," I protested. "What if it's a load-bearing wall?" (I didn't know what that meant, but I gave it a shot anyway.) "I don't have the tools. I just can't do it."
"Well, Jim dear, find out. I don't know about things like that. I just know the wall doesn't look right, and the whole kitchen would look better without it."
Ursula's brain was all right. Mine was all left. She had been the class artist in high school, had studied art in college and had graduated in fine arts from the University of California in Los Angeles. I hadn't recognized then that she had an unerring eye for architectural form. Although the lesson would be learned painfully, I grew to accept with good grace every remodeling scheme she would come up with.
The next day was Saturday, and with much fear and trepidation, I crawled into the attic to look at the ceiling joists. Of course, the stub wall was of no importance to the house. So I returned to the kitchen and began to beat on the wall. I didn't know that there were easy ways to remove walls, and I didn't have the tools then, anyway. Eventually, the boards were all exposed, and I pried them out of the way. Filling the hole in the wall running between the two rooms was fairly straightforward.
But I was nearing the most important epiphany of my married life. I went to the hardware store and bought my first plaster-repair kit—a trowel and a box of spackling plaster. I got to work putting the plaster into the hole and smoothing it over. I smoothed, and the plaster stuck to my trowel. I put more on and smoothed again. I worked and worked and got it "good enough."
When I had finished the repair, I turned to Ursula to get her praise. But she seemed to be having a really tough time agreeing with me that the wall was finished. Finally, her artistic taste got the better of her.
"It's not smooth. It looks like it was patched."
"Well, it was. And that's the best I can do."
"It's not good." She took up the trowel and began working the plaster. I took the trowel from her petulantly.
"Okay, I'll do it again." I worked the plaster over and over. It still looked like a patch. It sloughed, it creased, it rolled up; but it wouldn't lie flat like the rest of the wall.
When I finished, I called Ursula over again to look at it. I knew she was not going to like it, but I hoped for the best.
"It's just not right."
"But it's the best I can do."
"That doesn't matter, if it's not right, then it must be worked until it is. You just can't leave it like that. It's just not a quality job."
That did it. That hurt my feelings. Now I felt I was deficient. I wasn't quality.
"Okay, you do it." And she did. The epiphany had arrived.
From that time forward—and there have been uncountable such times—I did the background work, and Ursula did what showed. I became the plumber and the electrician. I can frame and pour cement. But I don't do anything that can be seen. Ursula does that. Occasionally, she lets me paint walls and ceilings but never cabinets, door frames or such.
We have lived happily with this division of labor. She designs and finishes. I do the dirty work. We have remodeled many, many houses, even built two from scratch, and still love every minute of it.
Well, not every minute of it. Sometimes I just can't help myself and try to put the finish on something. I do this, it seems, because of a latent bit of masochism. It always ends the same way:
"Jim, it's not right. It's just not quality."
"Thank you, dear."
—Jimmy F. Gaines, Austin, Texas
Drawing by: Jackie Rogers