2009 Deck Code Changes – Pay Attention!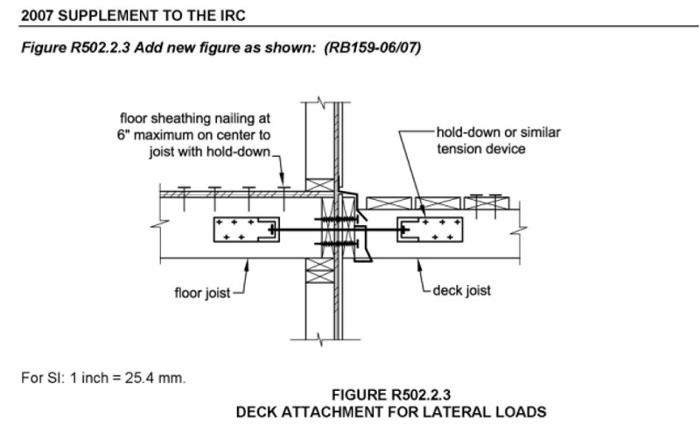 The 2009 International Residential Code (IRC) has a number of big changes when it comes to framing decks. If your state, county or town will be adopting the '09 IRC you'd better take a look at a copy of the code before you get a code violation.
The changes are all related to how you connect the ledger to the building. For one, there's now a prescriptive chart for fastener patterns, no more 'rule of thumb' bolt or lag screw frequency. You just match the depth of your deck to your fastener of choice (1/2 inch lag screw, 1/2 inch thru-bolt or 1/2 inch thru-bolt with stacked washer space) and you're good to go. But you are going to need a structural engineer if you want to bolt your deck ledger to anything but a 2x rim joist or a 1 inch thick Douglas Fir LVL rim. This means you have to know how the floor is framed when adding a deck to an existing building. Plus if the rim joist is concealed on the inside, you have to provide some sort of visual access for inspections – get out the hole saw….
And if you never noticed the one code provision that's been included in the IRC for years in section R502.2.2 that says: "Where supported by attachment to an exterior wall, decks shall be positively anchored to the primary structure and designed for both vertical and LATERAL loads as applicable" then you will when you look at the new section R502.2.2.3 Deck lateral load connection. There's a new prescriptive lateral load connection option you can use to keep the deck from pulling away from the building. Even though you are not required to use the detail, it will most likely trigger the notion in your local building official's head that "Hey, I should enforce something." And unless you have an engineered alternative solution, your local inspector may require that you use the connection as detailed.
Take a second look at the drawing above – the detail uses a long threaded rod that connects the floor joist of the house to the floor joist of the deck. On the bright side, you only have to install a couple of these on each deck (yeah, even if it's just a 4 ft wide landing deck). The trick of course will be finding the brackets; they aren't commonly stocked yet. Right now there are only 2 available – the Simpson Strongtie DTT2Z and USP's DTB-TZ – that meet the 1500 lb. load requirement.
If you don't have your copy of the 2009 IRC you can get most of the information from the 2007 supplement to the 2006 IRC online at the ICC website. Check out pages 34 – 36 for the deck sections.
There are other provisions in the new deck section of the code that eliminate mounting a ledger to a cantilevered floor and prohibit mounting girders to a ledgers, and a few other things. So before you get a violation notice and have a bear of a time revamping your deck frame to meet the new code, keep apprised of your local adoption schedule for the 2009 IRC and check it out.
Editor's note: If you are planning to take on a deck project this summer, in addition to the 2009 IRC, you'll want to consult our new Deck Planning Center. The IRC covers the code, our planning center covers everything else.