How to Choose an Insect Screen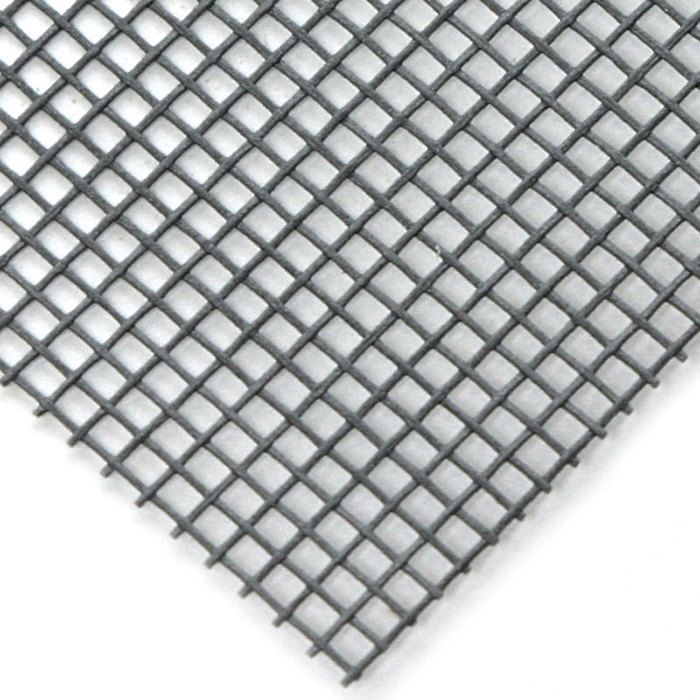 Screen is available in a variety of materials, but aluminum and fiberglass are by far the most common. Specialty screening includes extra-heavy pet-resistant screen; screen that blocks as much as 90% of solar-heat gain; and noncorroding bronze, monel (an alloy of nickel and copper), or stainless steel for coastal installations. Prices range from about 17¢ per sq. ft. for fiberglass to as much as $5 per sq. ft. for monel.
Standard door and window screen has a mesh size of 18×16, indicating that there are 18 strands per inch in one direction and 16 in the other. This screen can be used on a porch, but a mesh size of 18×14 uses a slightly larger-diameter wire, is stronger, and spans larger openings. If your area is plagued by tiny biting insects (sometimes called "no-see-ums" by their victims), 20×20 mesh may be a better choice.
Fiberglass

Standard fiberglass insect screen is made from vinyl-coated fiberglass threads in charcoal and silver gray. It won't crease like aluminum screening, but it's more opaque. It's also more flexible and, therefore, easier to install in an aluminum frame with a spline or in one of the proprietary screen-framing systems.
Some sun-control and pet screening is made from vinyl-coated polyester, which is stronger and heavier than fiberglass.
| | | | | |
| --- | --- | --- | --- | --- |
| | | | | |
| Standard fiberglass | | Sun control | | Pet screening |
Standard fiberglass screen comes in widths up to 84 in. and costs about 17¢ per sq. ft. Pet screening is about 60¢ per sq. ft., and Phifer's Super Solar screen (205-345-2120; www.phifer.com), in charcoal and silver gray, costs $1.53 per sq. ft.
Metal

Available in bright, charcoal, and black finishes, aluminum screening is the least visible to the eye. Aluminum, however, dents and creases fairly easily, and it can oxidize in coastal areas. It's available in widths up to 72 in. and costs about 26¢ per sq. ft.
Probably the most common of the high-performance alloy screens, bronze won't readily oxidize in salty air along the coast. It turns from a bright, coppery color to a dark brown, or even green, with age. It's available in widths up to 60 in. and costs about $1.10 per sq. ft.
Stainless steel and monel stand up extremely well to salty air, but their durability comes at a cost-anywhere from $2.25 to $5 per sq. ft., depending on weave and quantity.
Save time with screening systems
If you're looking for something beyond the stretch-and-staple approach of installing screen, there are several alternatives.
Custom panels
Buying premade panels of wood or aluminum, which are installed against stops applied to framed openings, is faster than installing screen yourself, and the panels can be removed and rescreened individually if they become damaged. Storm panels can be substituted for screen to extend the use of a porch into cooler weather. Connecticut Screen Works Inc. (www.connscreen.com; 203-741-0859) is one such supplier. It has made panels as large as 9 ft. by 18 ft., but the company recommends that buyers limit the maximum size to 48 in. wide by 80 in. tall. Prices for a basic panel with aluminum screen start between $50 and $75 per running foot, which includes a screen door and mounting hardware for the panels.
Proprietary track systems
At least two companies manufacture track that is attached to the framing and holds the screen tightly in place. Both types work best with fiberglass screen, although you can use aluminum screen. These systems make screen repair a snap.
ScreenEze
800-884-6697; www.screeneze.com

The screen is tightened as a piece of vinyl trim is snapped over an aluminum extrusion mounted to the framing. No splines are used. To replace a piece of torn screen, pull off the trim, cut a new piece of screen, and reinstall the trim. The track and cap retail for about $2 per ft.

Screen Tight
800-768-7325; www.screentight.com

A plastic extrusion is attached to the framed openings, and the screen is held in place with a spline and capped with a separate extrusion. If you get the hang of using the spline tool, replacing damaged screen is relatively simple. An 8-ft.-long section of track and cap is about $7.50.