What's the Difference: Nail Shanks
Choosing smooth, screw, or ring-shank nails depends on what you are building, and where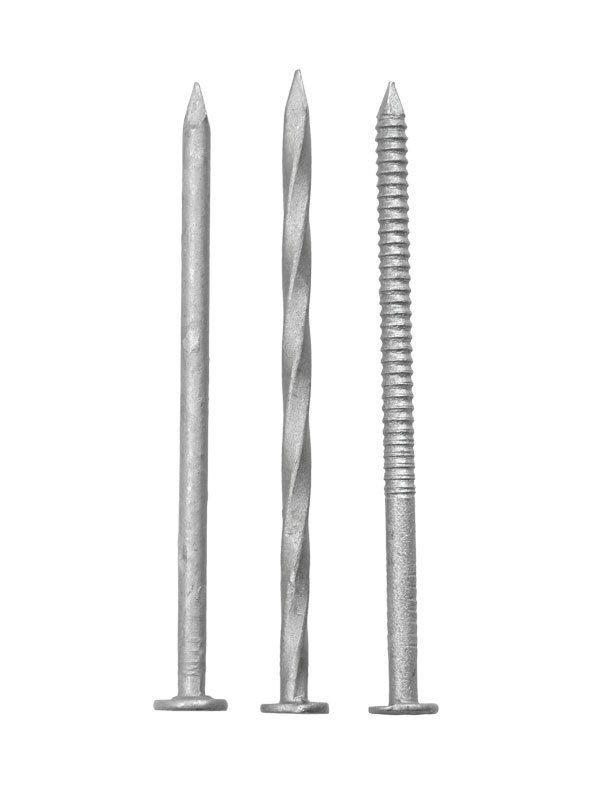 Remember trying to pull framing nails from lumber before you learned how to use a hammer or a cat's paw effectively? Even for seasoned remodelers, pulling nails can be infuriating, and might leave you wondering, how strong do nails really need to hold? Well, that not only depends on what you are nailing together, but where you are doing it.
If there's one overarching authority on fasteners, it's the International Code Council. They classify smooth-shank nails as "common" and screw- or ring-shank nails as "deformed," and specify where they have to be used within an assembly. Deformed nails are only really required in high-wind zones and in some subfloor assemblies.
However, you don't need to be faced with plywood-ripping winds to understand the value of each type. You can get better building results by simply relying on the best product. Each nail is available in loose or collated versions.
Strong
Smooth-shank nails rely on friction between the wood fibers and the shank for holding power, which is sufficient in a lot of conditions, but not all. In applications where wood is routinely expanding and contracting due to moisture, wood fibers lose contact with the shank and significantly reduce the nail's withdrawal strength.
Use them for: Basic framing applications and interior finish work
Cost: $4.50 per lb.
Stronger
Screw-shank nails, sometimes referred to as spiral-shank nails, turn as they are driven into wood. This threading action increases frictional force within the wood and leads to a greater withdrawal strength under less-than-optimal conditions.
Use them for: Squeak-free hardwood flooring and decking, siding, or in framing assemblies susceptible to high winds and moisture.
Cost: $4 per lb.
Strongest
According to the Forest Products Laboratory, ring-shank nails have twice the withdrawal strength of smooth-shank nails. As the nail penetrates into the wood, its fibers lock into each groove along the shank, resulting in a nail that holds tight despite extreme wind or cyclical moisture conditions.
Use them for: Decking, siding, underlayment, when sheathing roofs and walls (especially in high wind zones), or when nailing plywood to floor joists.
Cost: $4.50 per lb.
More about nails and nailing:
What's the Difference: Galvanized nails
Pneumatic Framing Nailers: Why Choose Coil over Stick?