Balancing Design and High-Performance Construction
Builder Travis Brungardt and architect Chris Fein reflect on working together to design and build a beautiful midcentury-modern home with durability and performance goals in mind.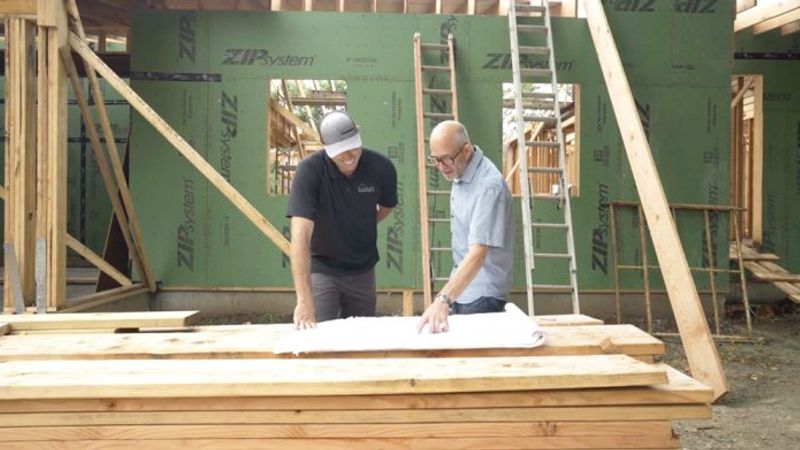 We're excited to have the opportunity to work with Forward Design | Architecture in Kansas City on the 2022 Fine Homebuilding House. This firm has a lot of experience with modern builds, which we at Catalyst Construction have not done much of. It's been a neat opportunity for us to work through a bit of the design with lead architect Chris Fein, although he and the team pretty much had the home designed by the time we got involved. Below is a reflection of our partnership and collaboration that we worked through in some integrated design meetings.
---
Chris Fein: For the design of the home, we had a pretty strong aesthetic determined by the homeowner, who wanted to build a house that appeared to be midcentury and also fit a smaller scale than the original scale of the neighborhood. We were there to a point, and then Catalyst came on board.
Working back and forth with the design and deciding how to achieve the desired look and aesthetic while still meeting performance goals has been a really great process. It's often either/or, and finding a way to weave the two together has been really exciting and fun for us, and hopefully we can continue to do it.
For example, we've been working back and forth on the roof detail, because our goal is to achieve a really thin eave profile that doesn't look like a 14-in. sandwich. Architecturally, we are already tapering and shifting the rafter tails down, but we also want an efficient vented roof —that's where we go back and forth and try to find a way to achieve both. I think we've gotten there.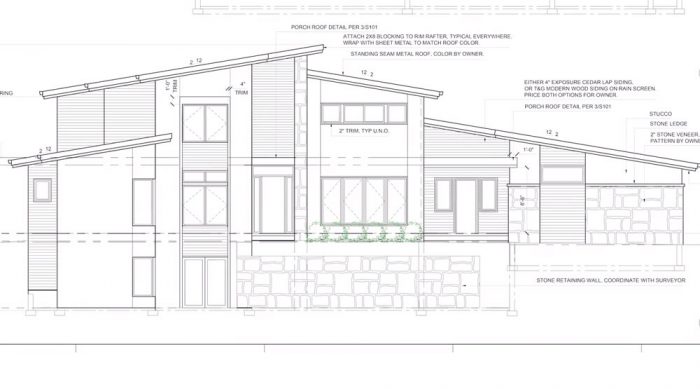 Travis Brungardt: I think so, and I think we've put in a lot of time.
Chris Fein: Five or six iterations.
Travis Brungardt: That's right. We didn't get it right the first time, but we have arrived at a really successful strategy that I think is going to serve the durability and performance goals that we favor and also achieve the original aesthetic of your design. I think the client's happy and that's the ultimate goal. Everybody wins.
Chris Fein: Right. High-performance doesn't always look like it's anything special. You want it to look like it's easy, but to make it look easy is actually really difficult and takes four or five steps because if anything is not right, it catches your attention.
Travis Brungardt: I will say this is probably the first time that I've seen so many cuts to finish a rafter tail to achieve that narrow fascia profile. Usually we would do it over-roof with a secondary structural member or a truss. There's a lot of different ways to skin the cat, but this way really does have a special feel to it, and I have enjoyed working with you on it.
We should probably describe what makes this detail work and why. You mentioned the small fascia profile, but what else was the driving force? Did you determine your overhang based on shading or scale?
Chris Fein: Yeah, we have a large overhang on both sides. This is really the north side of the home, so we didn't need as large of one, but we have large expansive windows on the other side of the house, which drove the overhang dimension so that in the summertime we have maximum shading. Then what we want is the kind of thin profile that matches other midcentury houses. We found a way to this kind of taper within the heavier roof condition that allows us to get thinner.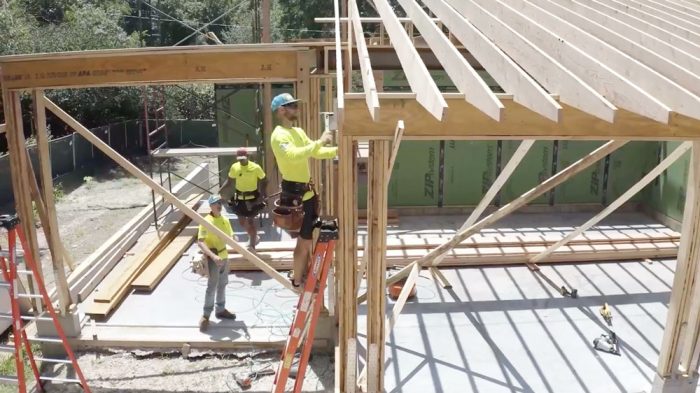 Travis Brungardt: Yeah, let's briefly walk through it. What we have is a 2×12 rafter that is continuous from the top of wall all the way to the ridge. We taper it down to a 3-1/2-in. end; the bottom side is cut, the top side is not. We have the 3/4-in. tongue-and-groove material on top of the exposed rafter tail, from the backside of the subfascia all the way up to the wall. Then inboard of the wall, we drop to a 1/2-in. roof sheathing. We're now out of plane. What we modify, and what we worked together right to achieve, is less labor. We want to be able to tape our wall to our roof sheathing. Having that break there is a huge win for us.
It doesn't really matter if we're out of plane because we're going to vent this roof with a back-vented channel and a second layer of decking on top. We worked through all the building science stuff, but we've still met the aesthetic because you can't see it behind the 1×6 fascia.
Chris Fein: From our perspective, the best thing is that we met the aesthetic. We eliminated steps in labor, and in that elimination we were able to actually solve other problems, and therefore multitask. The architectural detail is actually solving a performance criteria simultaneously, which is a better end result because both are working together. Now, there are other ways to do it, but somehow when you get them to work together it becomes a system, and that system is what then makes this house special, I think.
Travis Brungardt: That's the sweet spot. I've really enjoyed working through it with you. I know our framing crew was really appreciative of the opportunity to have a voice at the table.
Chris Fein: That was a great meeting.
Travis Brungardt: We've enjoyed that aspect of it. Even though I'm not a huge midcentury guy, I'm loving this house. The big windows work, all the design features that you've integrated that I originally thought, "Ah, that's going to be really hard," are so worth it. Thank you.
---
RELATED STORIES