Choosing the Right Hand Float for Your Next Concrete Project
Wood, resin, magnesium, and aluminum versions of this essential masonry tool all have their pros and cons.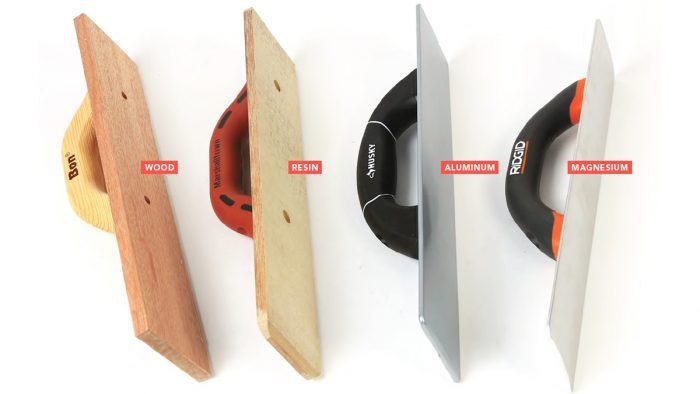 Once a slab has been poured, screeded, and bull-floated, it's time for hand floats. A bull float, which is used to smooth most of a slab, tends to either pull a small amount of concrete away from the edges of the slab, or push concrete toward the edges. A hand float is used to level and smooth these areas so that they match the rest of the slab, and also around obstacles, such as pipes, drains, or columns, where more precision is needed. These tools are made in several shapes and sizes, from four materials, each of which can have a different effect on the con­crete surface. Note that a steel trowel should never be placed on the con­crete until all bleed water has evapo­rated. If used too soon, a steel trowel closes the pores of the concrete and traps water below the surface, which would more than likely cause the top layer to delaminate.
Wood
A wood float is the least expensive option, but it isn't durable over the long haul. Because a wood float is dragged over a rough concrete surface, con­stantly soaking up bleed water, and is hosed down after use, it's surface becomes rough and fuzzed-up, which tends to pull and drag at the surface of the concrete rather than smoothing it. This effect sometimes can be useful, though, especially when working with really stiff concrete or concrete that is setting up too hard. Wood is preferred when applying shake-on color hardeners, which need to be worked into the top surface of the slab.
Bon 82-402 (16 in. by 3-1 ⁄ 2 in.): about $6
Resin
Laminated-canvas-resin floats have an extremely dense "waffle" sur­face that gives the concrete the same slightly rough texture as a wood float. The advantage to paying twice the cost of a wood float is that you get a much more durable tool. Canvas resin doesn't soak up water, so it won't fuzz up after repeated use on wet concrete and after being hosed off at the end of a job.
Marshalltown 4526D (16 in. by 3-1 ⁄ 2 in.): about $28
Aluminum
Aluminum floats have many of the same characteristics as magne­sium floats, but they are roughly 30% heavier and 30% stronger. Like magnesium, aluminum opens the pores of fresh concrete, allowing bleed water to evaporate.
Ridgid CM5001 (16 in. by 3-1 ⁄ 8 in.): about $18
Magnesium
Although they are slightly weaker than their aluminum coun­terparts, magnesium floats are lighter, and are often only slightly more expensive. Magnesium smooths the surface of fresh concrete and opens the pores for proper evaporation, all without pulling the surface like a wood or resin tool.
Husky 57501 (16 in. by 3-1 ⁄ 2 in.): about $22
—Brian Pontolilo, Scott Gibson, and Justin Fink contributed to this special section.
Photos by Rodney Diaz and Melinda Sonido.  
From Fine Homebuilding #283