The Right Cable for Each Job
Nonmetallic-sheathed cable and metallic-sheathed cable each have their place in home electrical systems.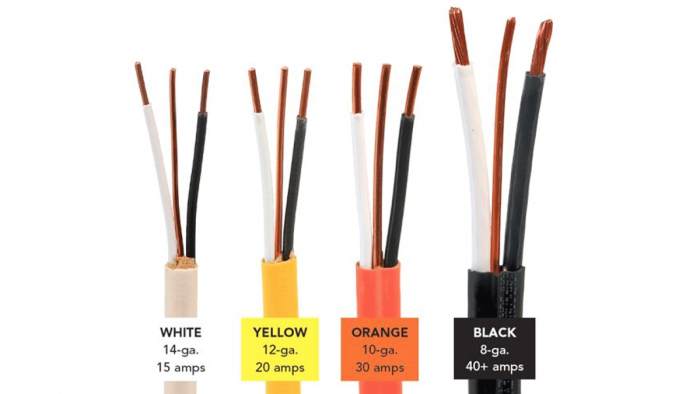 There are two basic questions that guide the choice of which electrical cable to use for each job: the amount of current the conductors will carry, which dictates the necessary gauge, and where the wiring will be located, which dictates the type of jacket/sheathing used to protect those conductors. Note that although "wire" and "cable" are often used interchangeably, wire actually refers to a single electrical conductor. When multiple wires are bundled together, what you have is a cable. The two most common types of cable categories are nonmetallic and metallic, which describe the type of jacket protecting the cable.
Nonmetallic-sheathed cable
Nonmetallic-sheathed (NM) cable is intended for protected locations—inside wall cavities, for example, not out in the weather or buried in the backyard. Inside the sheathing are individual wires. "NM-B" means the cable is rated for locations where temperatures go up to 90ºC (194ºF). The gauge of the individual wires will determine how much current the cable can safely handle. The choice depends on how much current (amps) the device draws—information that should be available on a tag attached to the device.
Gray – Unlike the other jacket colors, gray indicates a type of cable rather than a gauge and amp capacity. A gray jacket identifies the cable as an underground-feeder (UF) cable, which means the conductors are completely encased in plastic and suitable for direct burial without using a conduit.
Regardless of jacket type, the individual wires within are color coated to match their intended use.
Black and red (when included) = hot
White = neutral
Bare = ground
Metallic-sheathed cable
Armor-clad (often called "BX") and metal-clad cable are preferred by some electricians, and required in certain installations because the flexible metal sheathing is less prone to damage than the vinyl covering on NM cable. Because of the metal sheathing, AC and MC cable are more expensive than NM cable, and more difficult to cut.
Armor-clad (AC) cable
This cable consists of individual conductors wrapped in paper and an outer sheathing of steel or aluminum. Inside is a separate bonding wire that, in conjunction with the metal sheathing, serves as the grounding wire (by itself, the bonding wire is not an adequate equipment ground). Because the sheathing is the ground, you'll have to use metal, not plastic, receptacle and switch boxes.
Metal-clad (MC) cable
MC cable has a flexible metal sheathing and one or more conductors, but unlike AC cable, the metal sheathing of MC cable doesn't count as a ground. MC cable requires a bare or green grounding conductor. MC cable can be used in more locations than AC cable.
From Fine Homebuilding #283
Previous:
Sizing Up Electrical Cable
Next:
Nonmetallic Sheathed Cable