Tools & Materials
Serena Stone Knobs and Pulls
Cost: $14 each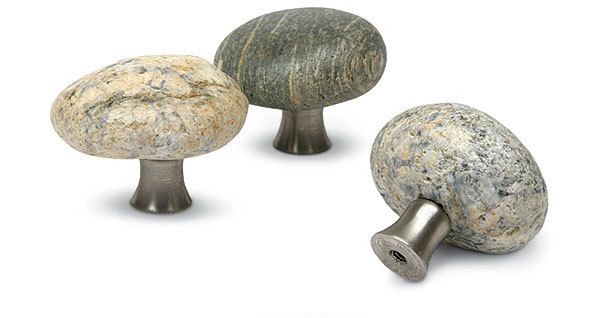 When I was young, I used to search the shore for smooth rocks to skip along the top of the water. I always loved the way the cool stones felt in my hand. Now I can re-create that experience every day in my kitchen with Sea Stones's cabinet knobs and drawer pulls.
The knobs and pulls are made from ocean-smoothed stones attached to solid stainless-steel stems that are permanently set with industrial epoxy into a hole drilled in each stone. The specially designed stem employs a double mushroom head with plenty of undercuts and surface area to ensure a permanent bond—one so strong, the company claims, that the stainless steel will break before the bond.
The knobs are available in two lines: Naturals, which includes a wide range of colors and patterns; and Neutrals, consisting primarily of shades of gray with more subdued markings. The stones are hand gathered, with permission, on private New England beaches, so each knob is unique. Also unique is the company's method of sustaining its business: It replaces each rock it gathers by "planting" a rough stone, purchased from a quarry, back into the ocean.