Versatile Bandsaw Worktables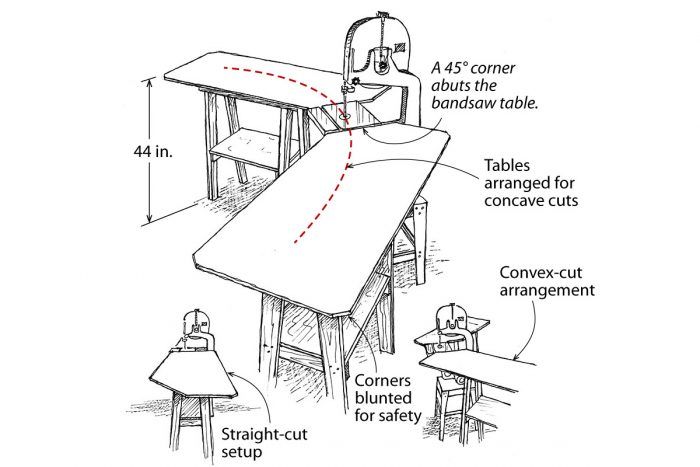 The table on my bandsaw is about 44 in. above the floor. It is a good height for lots of work, but most workbenches and sawhorses are 36 in. tall or less.
As shown in the drawings at right, I made two worktables that are really oversize sawhorses with "ironing board" tops on them. The ironing-board shape lets me use them as infeed and outfeed tables for the bandsaw when I'm cutting concave or convex curves. They can be used for straight work, too, and their smooth MDF tops make it easy to slide a workpiece into the bandsaw blade. For pergola rafter-tail scrollwork, I use just one of the worktables placed to balance the rafter so it is easy to move. I position the table sideways for a wide range of motion.
While I built these worktables specifically for bandsaw work, I have discovered how useful the 44-in. height is for jigsaw and router work. At that height, the work is easy to see, and there is no bending over.
Brian Campbell, Minnesota City, MN
Edited and Illustrated by Charles Miller
From Fine Homebuilding #213