Design
A Kitchen Floor that Rocks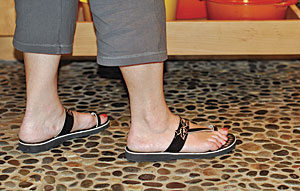 During a building project, our senses are heightened. We take in every color, fondle every swatch, brush every surface—it's all fantasy fodder.
During the conception phase for our Bucks County, Pa., home, I was spending time in the Pacific Northwest. As I walked into the Anthropologie store in downtown Seattle and laid eyes on my first pebble floor, I knew this was not fantasy material.
My kitchen-floor search was over. I was immediately drawn to the pebbles' simple, earthy beauty. And since our property falls along a glacial moraine (read: lots of boulders and rocks), the pebble floor was a way to reinforce the connection between home and land. Although I didn't end up with a floor exactly like the one at Anthropologie (no one at their corporate office would reveal the source), it did inspire me to find my own. With a little Internet sleuthing, I discovered StrataStones in Hanford, Calif. The company sells a variety of pebble-tile products at prices ranging from $9.99 to $12.99 per sq. ft. through its Web site (www.stratastones.net).
The pebbles come glued to a 12×12 mesh backing, and our tile installer, who had never laid a floor like this before, had no trouble. In some ways, this flooring is easier to install than traditional tile, because pebbles can be removed to fit irregular spaces. The interlocking edges of each square fit neatly against the next. Just like tile, the laid pebbles are ready for grout and then sealing. We could have gone high gloss (photo left), but we opted for the more understated matte finish (photo right).
I've lived with this floor long enough for the fantasy to wear off. But after two years, I am more pleased than I initially envisioned.
Grouted a medium gray, this floor just doesn't show dirt. As someone who cooks daily—professionally and personally—I need a floor that doesn't need mopping after each cooking spree. I give the floor a quick swipe with our Miele vacuum, using a brush attachment that's perfect for pulling dirt out of all those little indentations.
Like a tile floor, a pebble floor is hard—you drop a glass and it's gone—but unlike some tile floors that are prone to chipping, a pebble floor is as solid as, well, a rock. And as many hours a day as I stand on it, I've never experienced sore feet or achy joints (and that's without the benefit of cushioned mats). In fact, I love walking on the floor in my bare feet. I call it "poor man's reflexology."
We've carried the pebble-floor theme throughout our home: into the powder room off the kitchen and into our master bathroom, including the shower floor. Paired with a tile border, there was even enough leftover pebble flooring for the downstairs bathroom. Maybe I eventually would have found pebble flooring another way, but I'm glad to have stumbled upon a floor that was so functional, beautiful, reasonably priced, and soon, I believe, to become a classic.