Inswing or Outswing Doors?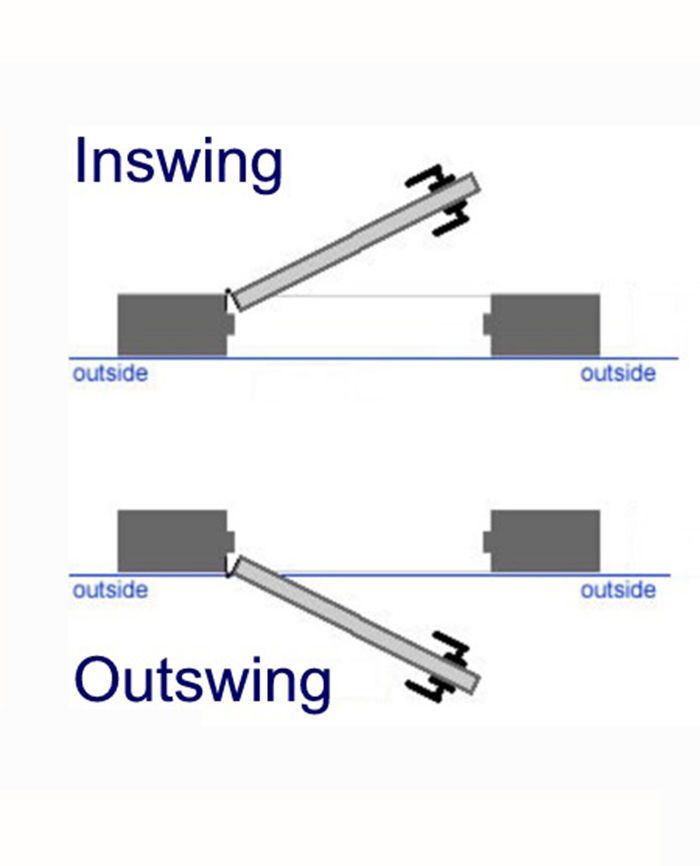 Inswing exterior doors dominate the residential market, but a better case can be made for an entry door that swings out rather than in. Outswing doors are more secure, airtight and durable than inswing style doors. I think the building codes should be changed to favor outswing doors in all but a few instances. This is a pretty strong statement that will raise a few neck hairs so if you don't like this assessment let me know why.
Here's how I see the inswing and outswing doors stacking up:
The threshold
The bottom of an inswing door relies on a sweep gasket to seal out drafts and water. Friction takes its toll on door sweeps and it isn't long before they wear. Sure, adjustable threshold strips can make up for the wear but when was the last time you saw a homeowner try to adjust one? To get a good seal you'll need friction between the sweep and the threshold — friction means the door will be harder to open.
The door bottom on an inswing door hovers over the highest point on the threshold so any wind-driven water is headed inside unless there's an ample roof over the landing. You can install a mechanical door gasket that drops when the door is closed or an interlocking weatherstrip. They'll work great for a couple years and then become a maintenance issue. Another solution to the leaky threshold problem is a storm door (which of course swings outward).
The threshold of an outswing door, on the other hand, has a positive stop just like the jamb. The threshold stop creates a difficult path for water and, coupled with a compression gasket, helps to seal out wind and water. Since the gasket doesn't rely on friction, an outswing door is easier to open and close.
Durability
This issue piggybacks on the threshold design. Keep the water out and there's less chance for rot. I've pulled out many inswing doors with rotted subfloors, popping tile and deteriorated hardwood due to repeated water leaks. Outswing doors generally don't suffer the same problem.
Security
The first red flag most people throw out when I recommend an outswing door is the security risk. They feel the exposed hinge pins are a weak spot thieves can exploit. That may have been the case many years ago but security style hinges are now common on outswing and many inswing doors. Tabs or studs on the hinges prevent the door panel from being removed even when the pins are popped out. The tabs and studs are either integrated into the hinge leaves or can be retrofitted to old hinge models. And some hinges also have special threaded pins that resist extraction without a special tool. So with the hinge issue off the table, an outswing door is actually more secure than an inswing door.
Inswing doors are a cinch to kick in even when deadbolts and deep-screwed strike plates are used. Outswing doors on the other hand are next to impossible to kick-in and unlikely to be yanked out on the strike side (unless a thief chains the door handle the bumper of a waiting car).
The main downside to outswing doors is availability.  None of my local lumberyards stock outswing frames so they need to be ordered.  One practical downside I can see is when there is an insufficiently sized exterior landing to permit someone to stand while opening or closing the door.  But aside from the landing problem, why mess with a door design that has an inherent flaw when an outswing door is superior?
More on exterior doors:
The Ins and Outs of Exterior Doors — Get a crash course in choosing an entry door, from basic features to premium upgrades.
Installing Exterior French Doors — Part of a video series on the complete installation process, from preparing the rough opening to the installation of flashing, hardware and screen doors.
Choose a Quality Entry Door — Options include wood, steel, and fiberglass, with cost, aesthetics, and maintenance all important concerns in selecting one over the other.
Build a High-Performance Exterior Door — How to make a beautiful entry door for an energy-efficient home from common building materials.