My Story Through Houses: The Adobe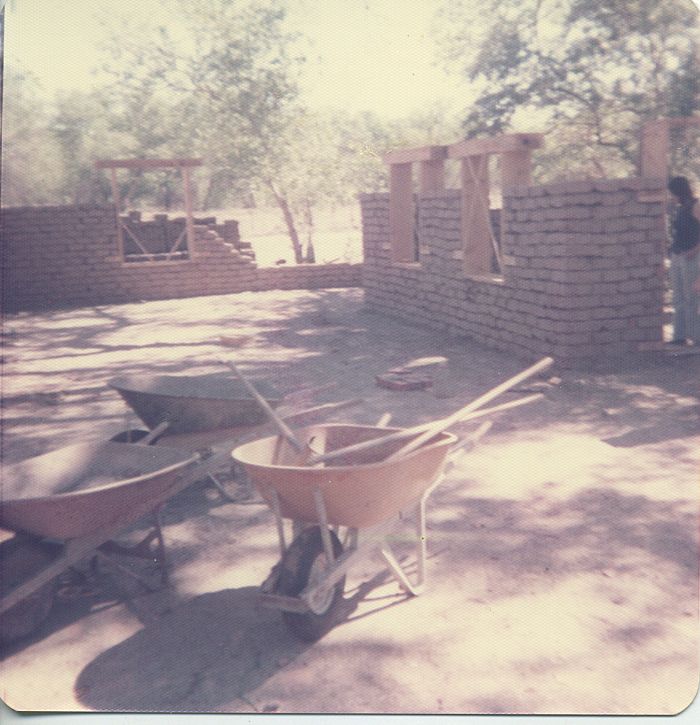 "We haven't accepted—we can't really believe—that the most characteristic product of our age of scientific miracles is junk, but that is so. And we still think and behave as though we face an unspoiled continent, with thousands of acres of living space for every man. We still sing 'America the Beautiful' as though we had not created in it, by strenuous effort, at great expense, and with dauntless self-praise, an unprecedented ugliness."
–Wendell Berry, The Rise
Oh, the ocotillo. I didn't see it in bloom the first time I crossed the desert in 1950. It was there alright in what I saw as a desolate, sun-baked, water-deprived, sandy world. My perception told me that these dry, slender, stick-looking plants were old and dead. I didn't have a clue what I was missing. As I have heard say: "We don't see things as they are. We see things as we are."
Just as the ocotillo is natural to the Southwest, so is building with adobe. This building material that has been used not only in this country for centuries but throughout the world for thousands of years. Adobe bricks are easy to make, durable, and inexpensive if you do the work yourself. So, as the quality of our lumber continues to deteriorate, we can once again turn to Mother Earth for our basic construction materials. Adobe seems to be a viable solution for many different buildings. The basic adobe material is underfoot so there are no huge transportation charges. Bricks can be made with semi-skilled labor. Once the earth is mixed with water it is dried by solar energy. I seems fair to say that it meets most every green-based ecological principle.
Having built many hundreds of them, I think it's safe to say that the California tract home was not designed by an artist. The adobe was. Building with earth, along with wood beams for lintels and rafters, allows houses to be shaped and formed beyond the normal square and straight up and down design. Adobe bricks can be used like paint on a palette to sculpt and make present ideas and longings that lie deep in the recesses of our soul.
Let me say at this point that one problem we have in building in this traditional way is that we often run up against local building codes. Now I realize that building codes, along with inspectors are quite important. They protect a home owner from builders who might want to take short cuts that endanger the integrity of a house. They ensure that a house is built to minimum standards with quality materials that won't catch fire or allow a building to disintegrate before its time. But, and this is important, they can and do stifle creativity and in some cases increase building costs well beyond the means of many would-be home builders.
Making adobe bricks has almost always been labor-intensive work: shovel the ingredients, stir the muddy mixture, and place it in forms one brick at a time. Nowadays, there are machines that can increase production from several hundred bricks a day to thousands. No need to invite all your friends over for a brick-making party, just buy a machine! I have a friend who built her own small adobe house by hand. It took her three years working on weekends to make enough bricks, but she did it. It is her cherished home that welcomes her daily with outstretched arms!
I have forgotten the name of the craftsman who taught me how to "lay up" adobe bricks with a mason's trowel and mud mixture. He was a master of his craft having spent years building adobe homes. His nickname, given by fellow workers, was "old Leather-lip." This name was always said with respect for he was not just an ordinary brick layer, he was an artist. He came by his nickname because he was the only person anyone had known who could drink piping hot coffee directly from his thermos bottle. I don't recommend you try this yourself.
The adobe house I helped build was constructed with bricks that had been made in 2×4 forms. This means that the bricks were 3½ in. thick. Their width was about 12 in. and their length 16 in. This size, of course, can vary according to the desire of the brick maker. The thickness of the walls can also vary depending mainly on wall height, individual preference, and the building code. I have been in churches with adobe walls 5 ft. thick or more with huge buttresses on the outside to stabilize the structure. The walls on the home we were building were laid up two bricks wide, leaving a 24-in.-thick wall . The bricks were bonded together with a muddy mixture to which we added some cement to ensure a solid bond between the bricks, following the directions of the master craftsman. This wall formed a substantial thermal mass that is ideal for the southwestern climate. Daytime heat from the sun is stored in this mass and slowly released into the rooms as the night air cools off our world. Yes, the high desert can get quite cool at night even in the summertime. These thick, heat-collecting walls can mean low energy costs for an adobe home.
My favorite part of an adobe house is the beehive or Kiva fireplace placed in a corner of a room and often accompanied by a bench made of adobe protruding from the wall. In the winter, temperatures can drop below freezing. A small fire built in a bedroom will heat the earthen mass that forms the actual fireplace and radiate heat throughout the night.
Working on this adobe gave me the feeling that I, and my co-workers, were complete—whole—that we lacked nothing. How can I say this? I felt like what we were essentially could not be taken away no matter what happened to us. It was here in New Mexico that I saw a bumper sticker that helped to explain what I was feeling. One sticker announced that the driver had been "Born Again." Another, at the back of an old battered pickup, said that he or she was "Born OK the First Time." That's how I felt!