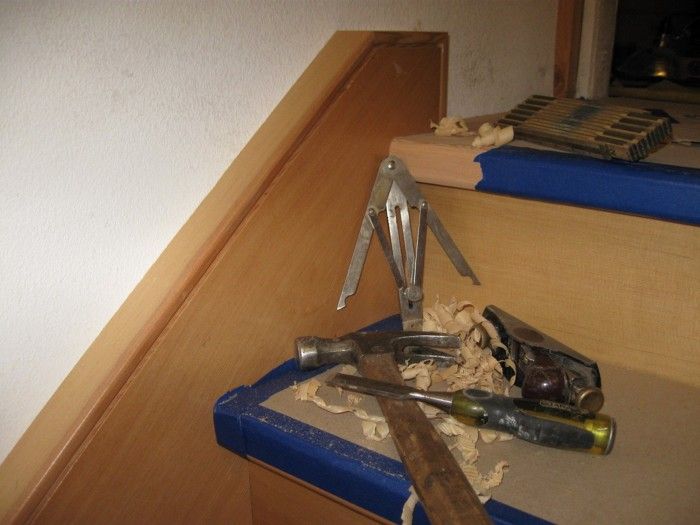 Generations
To my daughter: While it wasn't possible for me to be nearby as you struggled through labor with your firstborn, I had an experience during that time I'd like to share with you. Perhaps not just by chance, I ended up doing some work that was more indicative of my father than anything else I could have been doing in my current practice. You didn't know your granddad well; as is too often the case, we lived far away.
He was an old school craftsman the likes of which are rare today in the building trades. While he could do any carpentry, he focused mainly on stairs through the last half of his fifty year career. Late in his practice he added a stringer molding that added a shadow line to the side of the stairs that runs down the wall, instead of routing an ogee on it like he did for decades before. It was a subtle but elegant change that I adopted whenever building that style of stairs. His gruff nature belied the tenderness with which he treated the wood he loved. It was inspiring to watch him work, as if all his life force was concentrated in his hands. While my duties as a project manager have precluded me from having as magic a touch as someone who practices daily, I always try to replicate the fineness of the work he did.
During your final hours of labor I labored as well, installing this molding on some stairs I made with the same techniques he taught me decades ago, using a handmade template I modified for the thicker treads we used on this job. Instead of the usual bustle of the jobsite I was alone with this task but my thoughts were with you. As if he knew I was distracted, I felt my father's presence guiding me through this pleasant work. So while you were ushering in the next generation, I was spending it with the past one. As you were counting fingers on perfect little hands, I could feel my father's hands in mine. I was finishing up as the first baby photo came through my phone and I smiled a perfect smile. While my dad is no longer with us I'm sure he would be proud of us both.
In the photo I placed the simple hand tools that he personally taught me to use. These five tools remind me more of him than any other of the hundreds more that are in my collection. They were perfected during the industrial revolution and have been used by generations of craftsman for millennia. The spiral hand plane shavings will always remind me of my own childhood and the time I spent in his woodshop.
To add to the perfection of this experience I was working with wood that was reclaimed from the century old house that we took down to build this one. The parts were produced by the new owner himself to my specifications using old growth Douglas fir that is native to this area. It's warm patina and fine straight grain has been prized by craftsmen for centuries. It is the finest softwood I have ever worked with. I couldn't help but think about the generations of families this old wood served as part of the old house or of the workers who harvested these trees that sprouted perhaps two to three hundred years ago. Now it will serve the present family or future families for who knows how long. I hope for generations.