Stairmathter: Use SketchUp to Master the Math for Stairbuilding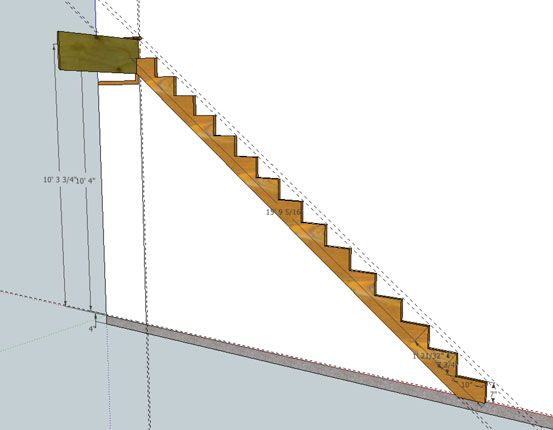 Once you've measured the total rise and run, an accurate stair-stringer layout is only a few mouse clicks away.
Step one – Create the model:
For this stair scenario we begin with a "rough total rise" dimension from a hypothetical jobsite. Since the accuracy of calculations provided in this method rely totally on the accuracy of this dimension, it is essential to account for any out-of-level condition that may exist in the basement floor by measuring to a point on the concrete where the bottom step will end up. After establishing a vertical Drawing Plane, add guide lines with the Measure tool and, tracing them, draw in geometry to represent the "rough total rise" for the existing floor structure.
Add Floor Finish Dimensions
With general jobsite measurement data drawn on a Drawing Plane, draw in remaining materials that will alter the "rough total rise" and establish a "finished total rise"
SketchUp Stairmathter:
Once the model represents measurements from the jobsite including relavant floor finishes (ie: underlayment, tile, hardwood or whatever) draw a vertical line to represent the finished total rise dimension and use the Divide tool to do the math and calculate individual rise height. It is important at this point to select and lower this triangle geometry by the tread thickness, in this case 1 1/4″, since we want to establish the cut lines for a stringer, rather than the finished tread and nosings positions. Next, by converting a single rise/run/diagonal triangle into a Stringer component, the Move/Duplicate tool quickly does the layout work for a stringer. (Note: to keep this tutorial simple I use a typical 10″ run for the stair treads. Certain jobsite conditions require adjusting this dimension but since the process is basically the same I didn't cover requirements to integrate the math for this variable)

Ready to Cut Stringer Pattern
With the Dimension tool you can measure any or every "cut" on the stringer model. Use the Protractor tool to measure any angle necessary. With access to this information you can layout accurate, code compliant stair stringers and cut with confidence.
There You Have It
In the next episode of Digital Jobsite session, I'll embellish the model created in this video series; available here:
Download the Stairmathter SketchUp model
with components required for a complete stair model. In addition I'll cover how to determine stairwell opening dimensions to allow for headroom and other clearances to conform to building codes as well as architectural requirements. I hope this workout session with Google's StairMathter yields productive progress for your stair planning efforts.
Read Part 2 in my stair-building series: Steps in the Right Direction